Introducing RJ Pop-CO the Innovative Patent Pending Aluminum Foil Pan Cover That Keeps Food Safe and Secure
RJ Innovations, a local company that creates products that just make sense is now on kickstarter.com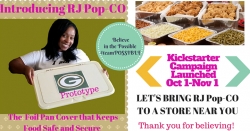 Frostproof, FL, October 09, 2015 --(
PR.com
)-- New Startup RJ Innovations announced today that it is raising funds via a rewards crowdfunding campaign on Kisckstarter.com to manufacture and produce RJ Pop-CO, a revolutionary, innovative food pan cover made to complement the all-purpose foil pan.
The company set out to raise $35,000 on Kickstarter.com to produce the first set of their latest invention that is going to change the way every day consumers and food service professionals interact with the all-purpose aluminum foil pans used for all almost all food occasions including; company and family picnics, family reunions, fundraising events, weekend barbecues, holiday gatherings and more.
This innovative product is designed to keep food safe and secure while helping food servers and preparers save money as well as maintaining the freshness of food and improving overall service. It will reinvent the way food service vendors and all public consumers of the foil pan store and serve food for indoor and outdoor functions and will revolutionize consumer products relating to food storage and handling. RJ Pop-CO simply makes sense. RJ Pop-CO is a versatile food pan cover developed to complement the already existing full size aluminum foil all-purpose pan.
The convenient and easy to use cover provides easy access to food via a stay-put cover with an easy access pop up lid, reducing exposure to the elements which causes food to lose its freshness. It also keeps out uninvited guests like bugs, ants, and flies, giving peace of mind while the consumer enjoys family, friends and fellowship.
RJ Pop-CO has been carefully designed with the consumer in mind, adding multiple features that will benefit the customer in many ways; thereby, adding value to the product.
Additional features and benefits include a translucent lid that helps to identify food without taking the cover off or opening the lid, a writable surface that can be used to write notes or identify food , a safe and secure lid that fits snugly onto the foil pan; thereby, reducing spills during transport, a stack-able design that aids in storing and transporting food effectively and efficiently, an environmentally friendly reusable product that is made of plastic that is dishwasher safe and cost efficient, and finally RJ Pop-Co has a lot of open space on the lid so that customers can support their favorite sports teams or party themes.
The initial line of RJ Pop-Co will be clear plastic with a translucent lid. Future designs will be of different colors with plans to affiliate with companies with licenses to provide sports and other party themes.
"Inventor Ron Johnson says we are just excited about the future of the company RJ Innovations and the RJ Pop-CO product. All I keep hearing from everyone that we tell about this product is that it just makes sense. We want to build a company that creates products that simply makes sense. The goal is to be a leader in creating innovative products, making life less complicated and more convenient, while increasing economic growth in our local communities."
RJ Innovations is a startup company located in Frostproof, FL and is owned by Ronald Johnson and Tonya White Johnson. RJ Pop-CO is in the Prototype stage and while the company is still very young they are getting great feedback from every day consumers and food service vendors about the need and excitement for this product to be on the market.
Contact
RJ Innovations
Tonya White Johnson
863-513-0329
www.rj-innovations.com

Contact