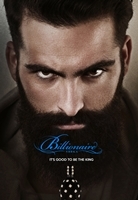 Geneva, Switzerland, October 13, 2015 --(
PR.com
)-- In the world of the rich and beautiful, diamonds are an expression of pure luxury and inconceivable wealth. These precious stones not only decorate cleavages, wrists and fingers of ladies, they also enhance numerous other luxury goods that millionaires and billionaires like to be surrounded by. Luxury designer Leon Verres who already set high standards globally with his "Le Billionaire Champagne," uses the power of these noble stones to create the most expensive vodka of the world.
Leon Verres' "Billionaire Vodka" - more than just vodka
Leon Verres, who is considered one of the most successful and charismatic luxury designers of his time, is exceeding himself with a diamond version of the vodka: Costing a whopping 7.25 million dollars, the luxury version of this Russian national beverage – thereby beats all records. And success is proving him right. Even before the first bottle went across the counter, its reputation preceded it and created sheer excitement among the luxury-spoiled rich across the world. Whether in Dubai, Moscow, Saint Tropez, New York or Shanghai: Everyone who prides themselves on being special wants to belong to the privileged few who are able to score one of the sought after bottles. But what is it about "Billionaire Vodka" that others don't have? Is it truly worth millions?
Pure luxury for drinking: "Billionaire Vodka" keeps what it promises
Already its exterior allows the suspicion that "Billionaire Vodka" is not from poor ancestry. In homage to its Russian motherland, Verres supplies the clear beverage with a custom-made dress made of deep black faux fur, a deceptively genuine fake fur with fitting fur hood, the so-called Shapka as the cap of the bottle. The self-confessed animal rights activist and promoter of PETA for ethical reasons, rejects the use of genuine fur. Instead he decorated the exterior of the bottle with almost 2,000 precious diamonds set in gold.
The interior keeps what the exclusive exterior promises: The connoisseur will find eighteen liters of the purest vodka, distilled from pure wheat and crystal-clear water according to the original Russian recipe. Its distinction is based in luxurious detail: During the distilling procedure, as part of a top secret process, the vodka is filtered using diamonds. This provides an unequalled soft and noble taste. It is thus no surprise that "Billionaire Vodka" should not be missing on any luxury yacht and at no exclusive event.
Demonstration of wealth and power
Those who can claim the much sought after bottles as their own, will not only benefit from the softest and purest vodka of the world. "Billionaire Vodka" represents everything that constitutes a successful man. It unites straightness, strength, clarity and exclusivity into one luxury item, unparalleled to anything. So despite its hefty price of over 7 million dollars, it is to be expected that "Billionaire Vodka" will completely sell out fast.
Those without the necessary change to acquire the diamond crowned "Billionaire Vodka" for $7.25 million, can be consoled: The noble drop will also be available in less exquisite packaging. Each 0.7 liters will be bottled in frosted designer bottles making do without the sparkling jewels. At the same time, the hand-made gold label promises that the bottle's interior will be no less flattering to the luxury-spoiled palate. Apart from this regular version there will also be the "diamond edition" with no less than six sparkling diamonds decorating the bottle. A gold "dog tag" with a limited edition number stamp will remind the proud owner of the fact that he can call an unusual collectors' item his own.
"It's good to be the king"
It is for good reason that Leon Verres' luxury vodka is advertised with the slogan "It's good to be the king." Since everyone who will benefit from the pleasures of "Billionaire Vodka," will inevitably feel like a king – a chosen one who lends expression to his power, wealth and also his masculinity with an unparalleled exclusive beverage – because he can!
Leon Verres fights against child poverty
The returns from the sale of Billionaire Vodka benefit children in need all around the world! Leon Verres: "Creating luxury does not necessarily mean to me, to be in the lap of luxury. Someone like me, who has battled one's way from the very bottom to the top, has better things to do than sunbathing all day on his yacht or to stroll over the red carpet with a smile every weekend. Therefore, for 15 years it is my great motivation to lead my creations to success, to get as much money as possible for children from poor or problematic families. In my eyes, children are the most precious thing we have! They are our world's future and have only us adults for guidance in this world. I have a heart for children. What about you?"
www.billionaire.vodka
www.facebook.com/official.billionaire.vodka