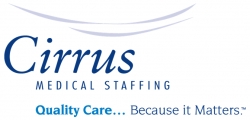 Charlotte, NC, October 15, 2015 --(
PR.com
)-- Cirrus Medical Staffing, a Charlotte-based recruitment firm specializing in placing healthcare professionals in travel positions at facilities all over the country, is promoting National Physical Therapy Month by highlighting travel therapy as a vital component to the profession.
National Physical Therapy Month, celebrated every October, was instituted by the American Physical Therapy Association (APTA) to formally recognize physical therapy (PT) and its impact on patients' lives through rapid rehabilitation.
More often than ever, healthcare facilities are finding themselves in need of travel therapists, who typically work for a facility for 13 weeks at a time to alleviate the permanent staff during events such as population increase, or maternity/paternity leaves. "This is especially true for physical therapists," says Cirrus Medical Staffing Recruitment Manager Jill Kenney, commenting on the surge in demand for physical therapists across the nation as a result of aging Baby Boomers in need of rehabilitation.
Kenney, who has been a recruiter in the healthcare staffing industry for more than 13 years, says that newly graduated PTs in particular find that they want to spend their first few years out of school practicing travel therapy, and experiencing a lifestyle that may not be feasible once they settle down. "It's really a great time to be a travel therapist and make the most out of this job boom," she says.
Most therapists conduct their job search through recruitment firms like Cirrus Medical Staffing. These companies serve as a matchmaking service for candidates and healthcare facilities seeking allied professionals, helping candidates find opportunities based on their unique search criteria, and helping facilities fill their staffing needs with quality professionals.
"PT month is a great reminder to appreciate this profession's significant contribution to the healthcare landscape," says Kenney. "Often, travel therapists are an invisible power within the workforce – filling personnel gaps while providing excellent patient care. It truly is a calling within a calling."
For more information about National Physical Therapy month, visit the blog at www.cirrusmedicalstaffing.com for news and insights.
About Cirrus Medical Staffing
Since 2002, Cirrus Medical Staffing--an award-winning, Joint Commission-certified healthcare staffing company--has been successfully placing travel nurses with the top healthcare organizations in the country. In 2013, Cirrus was named to the Inc. 5000 Magazine's list of fastest growing businesses in the U.S. For more information about Cirrus Medical Staffing, please visit www.cirrusmedicalstaffing.com.