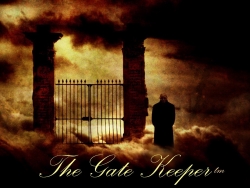 Middle Island, NY, October 15, 2015 --(
PR.com
)-- Its quirkiness begins with press releases sent from a mysterious person (or is he?) identified only as The Gatekeeper™. However, this is just the beginning of what is different about ParanormalMingle. According to millennial singles who have experienced the site's strangeness, this is not just a dating club, but more a gathering place for men and women seeking answers to the current mysteries plaguing their generation.
Once they click for free membership on www.paranormalmingle.com, they find a far different environment than just about any other dating site currently dealing with such subjects. Certainly there are photos galore. But it's the people in the photos that make them so unique. Why?
Because they are all looking for someone to share their views on UFO's, haunted houses, conspiracies, life after death, and similar areas of the unknown. But even more important, they also are seeking that one kindred soul that could become their soul mate.
Industry observers are watching the impact of this new dating site closely. They agree that there are other so-called supernatural sites out there. One in particular is being promoted nightly by a late-hour radio show. But according to these same observers, none offer the strange, creepy, weird feeling as this one.
According to The Gatekeeper™, there are no limits to what visitors question the most. "They are free to seek out other members with their same unique interests, concerns and weird experiences. Some claim to have seen ghostly apparitions, been abducted by aliens, remember past lives, have been told not to talk about certain objects in the skies, and on and on. I've welcomed all of them through these gates."
Meanwhile, people remain entertained and intrigued by the whole daring and creative nature of this new dating venue. They predict many imitators are sure to spring up. But most concede ParanormalMingle has out-thought them all by providing a weirder dating domain than exists anywhere. One that is going to grab a lot of attention from singles in the weeks and months ahead.
Oh yes, The Gatekeeper reminds us that anyone can be part of this whole experience at no cost at all. He points out in his gravely voice, "It is absolutely free."
As an aside, most of us have found it fun and entertaining and definitely not contrary to any religious beliefs. To visit, go to:
www.paranormalmingle.com
Facebook
https://www.facebook.com/ParanormalMingleCom-631955326947789/timeline/
https://www.facebook.com/profile.php?id=100010205651207
Pinterest
https://www.pinterest.com/paranormaldate/
Twitter
https://twitter.com/Paranormaldates
Linkedin
https://www.linkedin.com/in/paranormalmingle
Google
https://plus.google.com/u/0/115788999043425379196/posts
Paper Li
https://paper.li/e-1427965664
Tumblr
http://paranormalminglecom.tumblr.com/