The Best in Philly Hip Hop - Poesh Wonder Releases Sophomore Album, "No You Haven't And You Never Will Again (The Motion Picture)"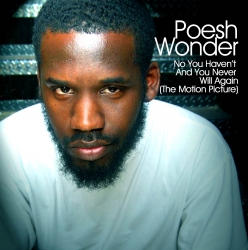 Philadelphia, PA, December 13, 2007 --(
PR.com
)-- Respect The Culture, LLC, a Philadelphia-based record label and multi-media company, announces the release of Poesh Wonder's sophomore album, "No You Haven't And You Never Will Again (The Motion Picture)."
Chronicling his life from the streets of Camden, NJ ("Where I'm From," "Them Bricks," "All in a Day's Hustle," "Pretty Brown Skin") to fun times on the Philly hip hop scene, ("On The Floor (What?)," "The Boogie's Back," "Scorpio," "Fatal Dub") to his life's love, ("Song For You") to his life today with love for family and the lessons he hopes to share ("He's The Man," "Now I'm Grown," "Day by Day"), this album includes guest vocals from Philadelphia artists Sabrina Cuie, Lawrence Arnell and Nex Millen. The album features music from Nex Millen (who also produced the album, Respect The Culture, Philadelphia, PA), Karimbeats (Philadelphia, PA), Sammy J (London, UK), Griffi (Del Palo, Records, ES) and Quiroga (Del Palo Records, ES) and mastering by Pete Humphreys (Masterwork Recordings, Philadelphia, PA).
"Poesh Wonder stands far above his peers in terms of lyrical content and delivery and the sound of the album, with contributions from global hip hop producers, is unparalleled in recent hip hop releases," said the album's producer and Co-Executive Producer, Nex Millen.
"With its variety in hip hop styles and influences (from R&B to soul to breaks to dub) and song topics spanning all areas of real hip hop culture, 'No You Haven't' has something for everyone. This is an album you'll want to listen to from start to finish - again and again," said the album's Co-Executive Producer Marci Krufka.
A release party for the album will be held at World Cafe Live, 3025 Walnut Street, Philadelphia, PA 19104 on December 21, 2007. Doors open at 8pm. In addition to Poesh Wonder, scheduled performers include Cee Knowledge (Doodglebug of Grammy-award winning Digable Planets), Reef The Lost Cauze, Nex Millen, soul sensation taragirl, Clean Guns, Sabrina Cuie, DJ Roxy, DJ Wind Dancer and DJ Caliph-Now.
Poesh Wonder is a New Jersey-born hip hop artist. He has performed regularly on the Philadelphia hip hop scene and throughout the Northeast for over five years and has appeared on numerous recordings nationally and internationally, including "Breakbread Radio," "Balance is Back," and "Almost Famous." His debut album, "Like This" is also available on Itunes and other digital music outlets. His work has resulted in worldwide acclaim, resulting in his being featured on "Historias De Q," the latest CD of Barcelona-based Spanish hip hop phenom Quiroga and starring with Quiroga in the video for "Wah/Fuego en tu Interior," as well as "Selectah," a recent 7" from El Chavo available on Juno Records (UK).
Respect The Culture is an independent record label and multimedia company headquartered in Philadelphia, PA – globalizing hip hop culture through music, art and fashion.
"No You Haven't And You Never Will Again (The Motion Picture)" is available on Itunes at
http://phobos.apple.com/WebObjects/MZStore.woa/wa/viewAlbum?playListId=269552858
and other digital distribution outlets worldwide.
For more information, an electronic press package including the album (mp3), lyrics/liner notes and promotional photos, a promotional copy of the CD for reviews, or to arrange an interview with Poesh Wonder, please contact Marci Krufka at Respect the Culture at 610-550-9705.
###
Contact
Respect the Culture, LLC
Marci Krufka
610-550-9705
www.respecttheculture.com
Become a friend at www.myspace.com/respectthecultureworldwide

Contact