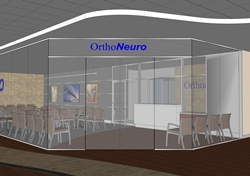 Columbus, OH, October 22, 2015 --(
PR.com
)-- OrthoNeuro will expand its medical services into Pickerington next month.
OrthoNeuro will be moving to the first floor of the new office building at the OhioHealth Pickerington Medical Campus located at 1030 Refugee Road. This 6,000 square foot space will allow for the addition of physicians and staff in the office to improve patient access and accommodate practice growth bringing new jobs to the area. The new medical office will open on November 16th, 2015. OrthoNeuro plans to open an outpatient physical therapy clinic and orthopedic urgent care on Hill Road early next year. These new spaces will allow OrthoNeuro to better serve patients in the community of Pickerington and surrounding areas with the best orthopedic and neurological care in the areas of: total joint replacement, sports medicine, foot & ankle, hand, headache, shoulder, spine, neurology, and physical medicine & rehabilitation.
For a list of physicians and services that OrthoNeuro will offer at its new Pickerington location, please visit
www.orthoneuro.com/Pickerington
.
OrthoNeuro
OrthoNeuro is a multidisciplinary center of board-certified physicians specializing in orthopedic surgery, neurology, spine surgery, and physical medicine and rehabilitation. With offices in Westerville, New Albany, Grandview, Pickerington, and Dublin, OrthoNeuro is committed to providing patients throughout Greater Central Ohio with convenient access to an exceptional patient care. For more information about OrthoNeuro visit
www.orthoneuro.com
or call 614-890-6555.