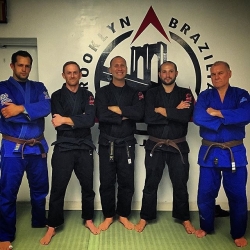 Brooklyn, NY, October 27, 2015 --(
PR.com
)-- Brooklyn Brazilian Jiu-Jitsu, the borough's network of martial arts schools known for its non-competitive and collaborative approach to the study and practice of Brazilian Jiu-Jitsu, celebrates its 10th anniversary this year.
The seed of the organization was planted in 2001 when Gene Dunn, one of the first American BJJ black belts, began a small program inside his Shotokan Karate Center on Avenue U in the Gravesend neighborhood. As interest grew and the program became well-known, Dunn selected a storefront in Dyker Heights as a home for the expanding classes.
Since then, the network has grown to serve three other neighborhoods as well: BBJJ Bensonhurst, BBJJ Clinton Hill and the latest, BBJJ Cobble Hill.
With self-defense and person development as the centerpiece for the program, Brooklyn Brazilian Jiu-Jitsu has sought to reassert the cooperative learning environment often overlooked in modern martial arts. In the early days, it wasn't easy.
"The dominant culture of adult martial arts has traditionally been one in which violence, or intimations of it, is the coin of the realm," says chief instructor Gene Dunn. "We began this program as an antidote to that. The goal was to create a culture where people of all ages and stages could learn safely and intelligently."
The schools are a unique experiment in cooperative learning - an environment in which students engage with one another as partners rather than opponents. To this end, there are no competitions or tournaments, and the instructors are teachers, not coaches.
"There are plenty of places for someone who wants to feed their competitive fires, this just isn't one of them," says instructor James Noto. He adds, "We're now beginning to see the long-term negative impact of the culture of 'winning' that sports and oneupsmanship promotes."
Instead, the last ten years for Brooklyn Brazilian Jiu-Jitsu have been marked by near continuous focus on charitable donations. From local organizations like Robin Hood foundation and Harlem Children's Zone to international ones like GAIN and Save the Children, BBJJ has donated tens of thousands of dollars to support people in need.
And with a dedicated student base of over 1200 students, the organization has made a profound impact on the neighborhoods it serves.
"The martial arts aren't rooted principles to fight by - they rooted in principles to live by. Generosity, friendliness and charitable giving is a natural consequence of that life," says Josh Skyer of BBJJ Cobble Hill.
As for the next ten years, the organization sees more giving, learning and teaching ahead. It's mission to share the benefits of a collaborative learning environment is picking up steam among serious practitioners as well as hobbyists.
"The last decade has laid the groundwork for the next ten years," says Dunn. "Our work is just beginning."