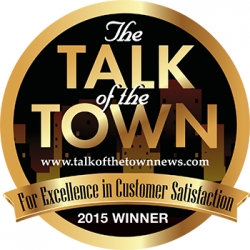 Gulfport, MS, October 27, 2015 --(
PR.com
)-- Receiving the highest possible customer satisfaction rating of 5 stars for 2015, Brandon Elliott and Elliott Homes LLC have won their third consecutive Talk of the Town Customer Satisfaction Award in the Home Builders and Developers category.
The Talk of the Town Awards, presented by Talk of the Town News, honor companies and professionals that provide excellent customer service as reported by their customers through no-cost, user-review websites, blogs, social networks, business rating services, and other honors and accolades. This data is analyzed by a team of researchers who calculate a company's rating. Only those that receive a 4-star to 5-star rating receive the Talk of the Town Customer Satisfaction Award.
Brandon Elliott and the Elliott Homes LLC team have been building on the Mississippi Gulf Coast for more than seven years and are honored to receive the Talk of the Town Award for a third straight year. The Gulfport custom home builder believes the key to the best customer experience is to focus on customer service first and quality homes second, says Brandon Elliott, President.
"Every member of our team knows the importance of building relationships with our home owners. They become part of our family and are treated as such throughout their build and beyond," says Elliott. "Our team is friendly, passionate, knowledgeable, and attempts to develop a lasting relationship of trust and confidence. Our goal is to build a high quality luxury home that people are proud to come home to while providing them with unsurpassed attention to customer service."
"One of the things that sets us apart from the competition is our focus on a set amount of homes per year," says Elliott. "We believe in quality over quantity. The number of homes we choose to build each year is set at a number that ensures we provide every homeowner with the best customer experience. Each of our custom homes are as unique as our homeowners and if we were a tract home builder we wouldn't be able to meet each customer's wants and needs."
Ensuring customers receive the best customer care wouldn't be possible without a great team and Elliott is amazed at their continued contributions and commitment. "Our employees are caring, knowledgeable and dedicated, with a large number of them having been in the construction industry for 20 years or more. We also have two Elliott Homes' home buyers who have joined our team after their homes were complete which enables them to share their experience with our customers," he says.
About Brandon Elliott and Elliott Homes LLC
Brandon Elliott established Elliott Homes LLC in 2008. Partnering with his wife and Interior Designer Adrienne Elliott, their mission was to create relationships with homeowners as they worked to build each customer's dream home. With an eye for creating unique designs for both affordable and high-end luxury homes, Elliott Homes LLC builds houses to the highest standards using a combination of innovative technology, strong construction principles and green amenities. Elliott has recently been selected for a "Top 40 Under 40" Award by Professional Builder's Magazine.
In addition to receiving their third consecutive Talk of the Town Award, Elliott Homes has been selected to build three St. Jude Dream Homes for the St. Jude Children's Hospital Giveaway. Other awards include the 2012 Builder of the Year Award by the Home Builders Association of Mississippi as well as the Home Builders Association of the Mississippi Coast. Their home designs have won many awards including a National Silver Award for the best one-of-a-kind custom home. For more information about Elliott Homes LLC visit their website at
www.MyElliottHome.com
.