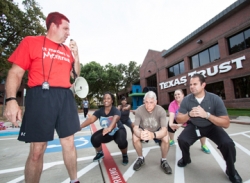 Arlington, TX, October 27, 2015 --(
PR.com
)-- Texas Trust Credit Union has conceded defeat to Meritrust Credit Union in the Clash of the Cash employee fitness competition.
The friendly, wellness-inspired contest between the two credit unions motivated 130 employees to burn 2.39 million calories over a 19-day period. The competition, developed by Sonic Boom Wellness, measured participants' steps, activity time, distance traveled, and calories burned.
The winning results were based on the amount of time spent on the move throughout the campaign. Meritrust's employees logged an average of 154 active minutes per day compared with Texas Trust's average of 112 minutes a day.
Participating employees from both credit unions used Boomerang™ activity trackers to monitor their movement. Every active minute, whether it was spent walking, running, dancing, jumping, hiking, or biking, was tracked to determine the results. This activity information was automatically uploaded to individual employees' personal and private portals for daily tracking, as well as monitoring ongoing contest results on live leaderboards. Employees earned Sonic Status points, which can be used to purchase merchandise such as fitness gear, clothing, electronics, and more.
Employees of the two credit unions were active for a total of 330,935 minutes, or more than 5,500 hours, during the 19-day contest.
Sonic Boom, a leading provider of corporate wellness software solutions, developed the competition between Meritrust and Texas Trust as a way to encourage more employees to increase their activity levels, which is the main wellness goal of both credit unions. As the winning credit union, Meritrust earned bragging rights, while the losing credit union's CEO, Jim Minge, dyed his hair Meritrust red and wore Meritrust logoed apparel to work.
Minge personally logged 78 hours of activity, burning 33,645 calories in his team's spirited defeat.
"Our wellness program is one of our biggest competitive advantages. People want more than a paycheck from their job," said Nastars. "They want the 'something more factor' and this contest provided a great opportunity to engage our employees in a friendly competition while making efforts to improve their lives."
Since initiating the Sonic Boom wellness program, Texas Trust has seen a big jump in wellness participation over the previous year. The Clash of the Cash promotion was its first external wellness competition, which created a new level of engagement for employees and set the stage for exciting events to come.
About Texas Trust
Texas Trust, one of the largest credit unions in North Texas and the 17th largest in Texas, provides financial services that enable members to build brighter financial futures. As a full-service financial institution, Texas Trust offers checking, savings, mortgages, credit cards, CDs, Money Market accounts, IRAs, and investment and insurance services. Its business services include SBA and conventional loans, electronic payment cards, checking and money market accounts, merchant card processing, online banking, insurance and the Employee Solutions Network. With assets of $880 million, Texas Trust operates in Dallas, Tarrant, and Henderson counties, as well as parts of Ellis and Johnson counties. It has 15 branches in Mansfield, Grand Prairie, Arlington, Cedar Hill, DeSoto, Hurst and Athens. Texas Trust is a federally insured financial institution. Deposits up to $250,000 are insured by the full faith of the federal government through the National Credit Union Administration (NCUA). For more information, visit TexasTrustCU.org.