myHRcounsel is Pleased to Announce a New Partnership with RecordMinder
An exciting new partnership between myHRcounsel and RecordMinder.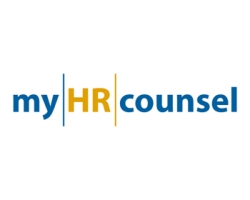 Minneapolis, MN, November 05, 2015 --(
PR.com
)-- The company is very pleased to announce an exciting new partnership with RecordMinder and myHRcounsel. This partnership combines RecordMinder's software systems designed to securely organize, share and stay compliant with all of your corporate documents, and myHRcounsel, which provides over 35 attorney advisors on all Federal and 50 State employment laws, both on-call and on-line. This new partnership is effective as of October 5th, 2015.
"Keeping HR and employment documents well organized, compliant and readily-accessible is getting more complicated. Staying compliant requires a great system and knowledgeable counsel," said myHRcounsel's President Mark Young. "This new partnership combines RecordMinder's innovative software with the knowledgeable and experienced team at myHRcounsel, giving RecordMinder users the right tools without the high fees incurred with attorneys."
RecordMinder is a leading provider in document management software which simplifies the way that your company organizes, shares, and allows you to stay compliant with all your corporate documents. RecordMinder provides alerts that helps you manage and stay on track of documents that are expiring, which will help you avoid wasting thousands in unnecessary fees.
By partnering with myHRcounsel, HR clients will now be available to avoid the traditional high hourly rate fee, and instead having the option to consult with attorneys at myHRcounsel for everyday compliance questions at a low per-employee monthly rate. With their unique business model, myHRcounsel provides legal protection, compliance guidance, counsel and important current documentation on the HR and legal functions critical to staffing firm owners. myHRcounsel is available on-call and online seven days a week for any compliance questions.
About RecordMinder
Based out of Atlanta, RecordMinder is an end-to-end clouds based electronic document management system that creates an easier way to populate, organize, share, store and stay compliant with all HR and legal documents that a company may have. RecordMinder provides a software which simplifies the way that companies manage documents. To learn more, visit https://www.recordminder.com.
About myHRcounsel
myHRcounsel offers HR management, employment law compliance, employee on-boarding, employee off-boarding and help with related legal and business issues. Their 20 year history of providing services in their unique format means their clients can receive instant answers on everyday HR compliance questions at a greatly reduced fee. The HR Concierge is provided for a small monthly fee ($3-5/mo. per employee) and is available seven days a week by phone or email. To learn more, visit www.myHRcounsel.com.
Contact
myHRcounsel
Mark Young
612-339-1421
myhrcounsel.com

Contact