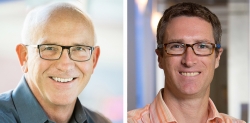 Raleigh, NC, November 07, 2015 --(
PR.com
)-- JDavis, a 65-person architecture, planning, landscape architecture and interior design firm, headquartered in Raleigh, NC, has named Larry Zucchino, FASLA, Chief Executive Officer and Neil Gray, AIA, President. Jeff Davis, AIA is transitioning his role as President and CEO by handing over the management reins to the Executive Leadership Team led by Zucchino and Gray. The Leadership Team includes partners: Larry Zucchino, FASLA; Neil Gray, AIA; Bill Egan, AIA; Bob Nussear, AIA and Tim Schelfe, IIDA, ASID. Jeff Davis will continue to focus on client management and project design.
"This is an exciting time for the firm as we look toward to the next 15 years. With a senior team of partners, and Larry and Neil at the helm, JDavis is well-positioned to build upon our expertise in multifamily and commercial development in the Mid-Atlantic and Southeast regions. I have complete confidence in the vision and energy of this team," says Jeff Davis.
Larry Zucchino, FASLA co-founded the firm in 2001 with Jeff Davis. Larry will continue to serve as the Managing Principal and will take on the new duties of Chief Executive Officer. He will be responsible for firm operations and strategic planning. Larry is a seasoned landscape architect with over 35 years of experience. He has provided strategic and operational leadership to the firm and design leadership for numerous projects involving land use and community planning, urban design, and environmental design for corporate, institutional and private clients. Larry was inducted as a Fellow in the American Society of Landscape Architects in 2013. He currently serves on the Raleigh-Durham Airport Authority Board and is on the Advisory Board of the ULI Triangle District Council.
"This is an exciting time for JDavis. We've moved our headquarters into downtown Raleigh in the new Charter Square building, our Philadelphia office is growing and we are expanding our services geographically throughout the Southeast and Mid-Atlantic," according to Zucchino.
Neil Gray, AIA, joined JDavis as a Principal in 2001 when the firm began. As President, Gray's primary responsibility will be in business development and client management. He brings 25 years of experience to his role and has served as a Principal for the last 15 years. Neil provides leadership on many office, multifamily and commercial development projects. He is an active member of the Triangle Urban Land Institute, serves on the ULI Rethinking Southern Cities Regional Initiative Council and is currently participating in Leadership Raleigh with the Greater Raleigh Chamber of Commerce.
Gray states, "We want to build upon the foundation established by Jeff Davis by fostering a culture focused on client-centered service, design exploration, project delivery and team collaboration. Our leadership team has been planning for this succession for several years, so we are able to seamlessly move forward."
News Facts:
JDavis, an architecture, planning, landscape architecture and interior design firm, has announced that Larry Zucchino, FASLA is Chief Executive Officer and Neil Gray, AIA is named President
Partners include: Larry Zucchino, Neil Gray, Bill Egan, Bob Nussear, Tim Schelfe
JDavis' areas of focus include urban planning, office, mixed-use, multifamily housing, adaptive reuse and club/resort design
JDavis has offices in Raleigh, NC and Philadelphia, PA.
About JDavis:
JDavis connects communities through design by creating places that bring people, neighborhoods, cities and regions together. It is our mission to create stimulating, functional and sustainable places through a collaborative approach. Central to our philosophy is our commitment to listening to our clients, exploring design opportunities and guiding the team to deliver the most effective solution to achieve the project goals. Our multi-disciplinary practice brings together professionals in architecture, landscape architecture, planning, interior design and procurement management serving the Mid-Atlantic and Southeast regions. For more information, please visit
www.jdavisarchitects.com
.