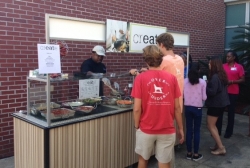 Jacksonville, FL, November 11, 2015 --(
PR.com
)-- Providing students with a new build-your-own bowl experience during school lunch
Fresh meals and culinary exploration are on the menu at Stanton College Preparatory School with the recently opened Create station offering made-to-order menu options. Create is an exhibition-style culinary experience where students can customize their selection while the food is created right in front of their eyes, providing a personal experience with every meal.
Utilizing Chef-created signature recipes made with fresh and seasonal ingredients, the Create station offers weekly menus that feature a wide array of healthy and delicious options. These menus were created using student input from surveys, tastings and everyday conversations. The new Create station menu includes weekly options such as:
· Nacho Bowl – Crispy tortilla chips with choice of chicken, beef, or black beans, then topped with queso and pico de Gallo
· Pasta Bowl – Whole grain penne pasta with choice of meatballs in marinara, chicken in alfredo sauce, or vegetarian marinara, then topped with sautéed vegetables and parmesan cheese
· Baked Potato – A warm baked potato topped with the student's choice of chili, broccoli, cheddar cheese, pico de Gallo and sour cream
Chartwells K12 has recently opened Create stations in other Duval County Public Schools this season, including Douglas Anderson School of the Arts and First Coast High School. A new Create station will be opening at Paxon High School on November 12th, 2015, where students are eager to try the new options made available to them with this addition.
"We're excited to bring new menus, flavors, and experiences to students this year in Duval County," said Brian Giles, Regional Vice President of Operations of Chartwells K12. "By providing foods and environments within the schools that closely resemble the experiences our students have in restaurants outside of their schools, we are transforming the school meal programs here in Duval County in a positive way."
Menus for the new Create stations may be found by visiting www.duvalschools.nutrislice.com, along with menus for all Duval County Public Schools.
About Chartwells K12
Chartwells K12 provides for more than 600 school districts, ranging from large public institutions to small charter and private schools, all with expansive needs. Chartwells K12 is a culinary-focused organization with a mission to extend its passion, dedication, knowledge and enthusiasm into serving each student delicious and nutritious meals. The company is built on decades of food and education experience and driven by top culinary, nutrition, wellness and sustainability talent. Chartwells K12 is part of Compass Group, an international leader in foodservice management and support services. For more information, visit http://www.ChartwellsK12.com/.
Media contact:
Louisa Alderson
904-732-5117
Louisa.Alderson@compass-usa.com