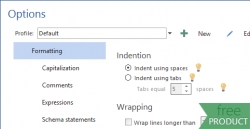 Raleigh, NC, December 10, 2015 --(
PR.com
)-- ApexSQL, a Microsoft Gold Certified Partner and major provider of Microsoft SQL Server solutions, announced the release of ApexSQL Refactor 2016.
About ApexSQL Refactor: ApexSQL Refactor is a free SQL Server Management Studio and Visual Studio SQL formatting and refactoring add-in with nearly 200 formatting and refactoring options such as table partitioning, renaming SQL objects, expanding wildcards and more.
For more information visit the
ApexSQL Refactor product page
.
ApexSQL Refactor 2016 includes the following new features and improvements:
· SQL Server 2016 CTP3 support
· SQL Server Management Studio CTP3 integration
· Smart indent feature
· Batch format SQL objects feature
· Obfuscate SQL feature
· New parenthesis options for values, where in values, variables, parameters and nested selects
· New Add spaces inside/outside parenthesis option
· Improved Place ON keyword on new line option
· Improved Nested join operations on separate lines option
· New Keep empty lines before and after the script option
· New Indent condition body statement option
"That did the trick - very, very, very cool! Being very particular about formatting my SQL makes this product a definite buy because it can support almost endless formatting scenarios!"
-Joe Salvatore
Programmer/Analyst
The Stellar Group
See also:
ApexSQL Refactor 2016 release notes
.