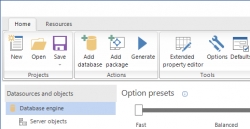 Raleigh, NC, December 15, 2015 --(
PR.com
)-- ApexSQL, a Microsoft Gold Certified Partner and major provider of Microsoft SQL Server solutions, announced the release of ApexSQL Doc 2016.
About ApexSQL Doc: ApexSQL Doc is a tool for documenting SQL Server instances, databases, objects and SQL Server Integration Services packages. It generates comprehensive documentation in a number of formats including CHM, HTML, Microsoft Word's DOC and DOCX, and PDF.
For more information visit the ApexSQL Doc
product page
.
ApexSQL Doc 2016 includes the following new features and improvements:
· SQL Server 2016 CTP3 support
· SQL Server Management Studio 2016 CTP3 integration
· Interactive graphical dependencies diagram
· Granular documentation of object level attributes
· Customizable default output location
· Custom shortcuts
"Let me congratulate ApexSQL on a pretty amazing tool (ApexSQL Doc). I have been hired to review 51 databases over 9 servers, and subsequently migrate some of them to a new server. The client has no documentation, so the first step was to document what lived where. After a brief search, I found this tool. It has saved me at least a week of work. Which is sad because those were billable hours ;)"
-Michael Conroy
President
Trinity Logic LLC
See also:
ApexSQL Doc 2016 release notes