ApexSQL Backup 2016 Released
ApexSQL Backup 2016, a tool that can manage and automate SQL Server backups while preserving the backup chain, has been released.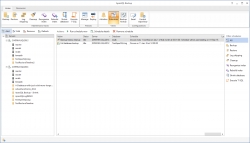 Raleigh, NC, January 06, 2016 --(
PR.com
)-- ApexSQL, a Microsoft Gold Certified Partner and major provider of Microsoft SQL Server solutions, announced the release of ApexSQL Backup 2016.
About ApexSQL Backup: ApexSQL Backup is a tool that enables management and automation of backup jobs while preserving the backup chain for easy point-in-time restoration (database rollback). In addition, it offers automation of backup, restore, and log shipping jobs, stores details of all backup activities and enables easy cross server backup management and maintenance. ApexSQL Backup offers instant backup creation, as well as instant backup restoration, and backup security is enhanced by automatically performing backup verification. All captured metric values and backup activities are automatically stored in a central database repository – a single SQL Server database which provides easy maintenance.
For more information, visit the ApexSQL Backup
product page
ApexSQL Backup 2016 includes the following new features and improvements:
· Schedule and execute index rebuild jobs
· Schedule and execute index reorganize jobs
· Schedule and execute database shrink jobs
· Schedule and execute custom T-SQL syntax scripts
· Restore files and filegroups per user selected filegroups against specific database instances and recovery state model
· Automatic cleanup of the database backup files after the backup job is executed
· SQL Server 2016 CTP3 support
· System database backup support 72 bugs and known issues fixed
See also:
ApexSQL Backup 2016 release notes
Contact
ApexSQL Software
Milos Kostadinovic
+1 (866) 665-5500
www.apexsql.com

Contact