New Product - ApexSQL Defrag 2016 Released
New product, ApexSQL Defrag 2016, has been released.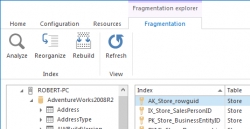 Chapel Hill, NC, October 05, 2016 --(
PR.com
)-- ApexSQL, a Microsoft Gold Certified Partner and a major provider of Microsoft SQL Server solutions, announced the release of a new product - ApexSQL Defrag 2016.
About ApexSQL Defrag: ApexSQL Defrag is an enterprise SQL Server tool used for analyzing, monitoring and managing SQL Server index fragmentation. The application allows for detailed index fragmentation analysis on the SQL Server, database and table level. With ApexSQL Defrag, you can rebuild or reorganize fragmented indexes in real time, as well as create policies and apply them to multiple databases or servers.
For more information, please visit the ApexSQL Defrag
product page.
ApexSQL Defrag 2016 includes the following features:
· Supports SQL Server 2005 and higher
· Analyze index fragmentation on local and remote SQL Server instances
· Rebuild and reorganize fragmented indexes
· Set fragmentation scan density
· Set the fragmentation thresholds for reorganize and rebuild jobs
· Create and manage customizable policies
· Set CPU load threshold and memory load threshold for defragmentation jobs
· Set the schedule for defragmentation jobs
· Set the Email notifications for succeeded/failed jobs
· Monitor all defragmentation jobs and policies from a central location
· Group the results by any column from the grid
· Filter the grid results
· Export the activities to CSV or XML
· Create fragmentation reports on index fragmentation and index memory usage
· Get reports for specified timeframe
· Export reports to PDF, HTML, or image file
See also:
ApexSQL Defrag 2016 release notes
Contact
ApexSQL Software
Milos Kostadinovic
+1 (866) 665-5500
www.apexsql.com

Contact