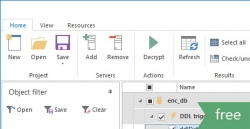 Chapel Hill, NC, November 23, 2016 --(
PR.com
)-- ApexSQL, a Microsoft Gold Certified Partner and a major provider of Microsoft SQL Server solutions, announced the release of a new product - ApexSQL Decrypt 2017.
About ApexSQL Decrypt: ApexSQL Decrypt is a SQL Server development tool that can decrypt SQL objects from multiple SQL databases, located on different SQL Servers. Decryption can be done directly on a database, or by creating one SQL script for all objects or one SQL script per object.
For more information, please visit the ApexSQL Decrypt
product page.
ApexSQL Decrypt 2017 includes the following features:
· Supports SQL Server 2005 and higher
· Supports SQL Server Management Studio 2012 integration and higher
· Decrypts SQL Server objects directly from SQL Server Management Studio
· Decrypts SQL objects from multiple SQL Servers
· Decrypts selected SQL objects with a single click
· Backups a database before decryption
· Previews action plan of the decryption SQL script
· Generates ALTER or CREATE SQL scripts
· Generates composite or one SQL script per object
· Previews original DDL script of encrypted objects
· Object filter for encrypted SQL objects
· GUI themes
See also:
ApexSQL Decrypt 2017 release notes