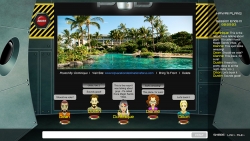 Manhattan Beach, CA, November 12, 2015 --(
PR.com
)-- Pod Inc. announces the launch of
POD
, a virtual communication platform that provides unrivaled privacy and freedom. The website allows users to chat in real-time, share a broad range of content, and delete the communication trail at any time by utilizing the proprietary "Abort" feature. POD is unique in its array of delete features and absence of user registration, and is available to everyone free of charge.
POD is ideal anytime there is a need for private, real-time communication and exchange of content that ultimately evaporates. For example, someone is organizing a surprise birthday party for their best friend. The invited guests meet up real-time in a POD, discuss the details of the party, and then everything evaporates, ensuring the guest of honor remains in the dark. Or a group of friends might prefer to gather in a POD and share funny stories and photographs from a weekend bachelor or bachelorette party instead of having everything blasted across the web. Business uses are similarly wide-ranging, from discussing the terms of a secret deal to teachers sharing sensitive feedback on a troubled student.
"POD revolutionizes online communication by providing a discreet space for people to conduct their personal or professional business, and then everything gets deleted as though it never happened," said founder John Valencia. "Our privacy has steadily eroded since the onset of the Internet age. There is nowhere to have effective communication without fear of it being forever memorialized on the web. POD was born from this concern."
POD stands apart from other platforms by virtue of its respect for privacy. All communication is ultimately deleted, either immediately through use of the "Abort" feature or after a set period of time. Furthermore, users are not asked to provide any personally identifiable information, such as their name, email address, or cellphone number.
Using POD is simple – users need only select a screen name before interacting with people they know in a Private POD, or engaging in discussion on a variety of topics in one of the many Public PODs, which are a modern take on the old Internet chat rooms. Due to its extensive content-sharing capabilities, POD is accessible on a desktop computer, laptop, or tablet. A mobile application is under development.
About POD
POD is a revolutionary Internet platform that anyone can use, free of charge, to engage in real-time communication with friends, family, and colleagues. POD allows users to share a broad spectrum of content, ranging from photos and videos to websites and text files, in a completely ephemeral manner. POD requires no personally identifiable information, as there are no user accounts, profiles or registration. A privately held company, Pod Inc. is located in the Southern California city of Manhattan Beach. Learn more at www.podwithme.com.