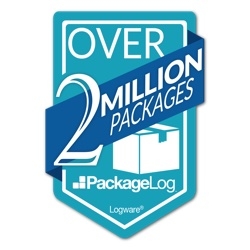 Orlando, FL, November 12, 2015 --(
PR.com
)--
PackageLog™
has now logged over two million packages for its global subscribers. After passing the one-million-packages-logged milestone in May of this year (2015), the Logware® team was excited to see how fast they passed two million. "At this pace, measuring our milestones one-million-packages-at-time will cycle so quickly that it will be hard for us to celebrate. I think five or even 10-million-packages might have to be our next milestone!" said Gustavo Ortiz, Logware® Director of Software Operations.
With clients having logged over two million inbound parcels, the Logware® team is working diligently to bring a low-cost, high value solution, worldwide. "It's clear that our software is a highly desired application based on the responses from our clients," stated Chelsea Burnett, Logware® Director of Client Services. U.S. Online retail sales alone are estimated at around $334B for 2015, add in international sales revenues and it's no wonder why PackageLog™ is such a hot online software web application (SaaS).
Managing the influx of inbound parcel deliveries (from business offices to apartment communities) have become such a headache that one of the largest U.S. apartment rental management firms recently began to refuse residents' parcel deliveries due to the time they felt that it takes to manage the process. "This is exactly why we developed PackageLog, to avoid apartment communities and other businesses from being burdened by this influx. We saw the trend increasing exponentially in 2011 and launched (2013) in time to ride this wave," says Craig Meddin, Logware® CEO.
Meddin commented further, stating that, "the real issue is time," noting that Logware® has developed something even faster for its clients; "the future of package logging software," said Meddin. The new development has been in R&D for nearly two-years and Meddin said, "we have finally found the solution." PackageLog™ will debut their new #FasterIsComing tool on November 17th and will offer a free trial for the holiday season, beginning the second week of December.
About Logware®:
Logware® develops efficiency Software-as-a-Service (SaaS) products to make life easy for its users. All Logware® products integrate with several property management software systems in the U.S. and abroad. PackageLog™, its flagship application, is an inbound package logging management tool that reduces the time spent on accepting packages for others by 90% or more.