R5FX Goes Live with Indian Rupee
R5FX is now live with Indian Rupee (INR) trading. The launch coincides with the London visit of the Indian Prime Minister, Shri Narendra Modi. R5FX is the new FX trading platform dedicated to emerging market currencies.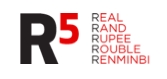 London, United Kingdom, November 13, 2015 --(
PR.com
)-- R5FX, the emerging marketplace for local market FX trading, today announced the launch of Indian Rupee trading on its platform. Live trading is now available in Indian Rupee (INR), Brazilian Real (BRL), Chilean Peso (CLP) and Colombian Peso (COP).
R5FX launched Indian Rupee trading at the conclusion of an event hosted by the Lord Mayor and City of London, at which the UK Prime Minister, Mr David Cameron, welcomed the Indian Prime Minister, Shri Narendra Modi. India is a rapidly growing major financial market and the launch of Indian Rupee on R5FX follows in-depth discussions with the Reserve Bank of India. This provides a tangible example of the closer financial ties forged between the UK and Asia's fastest growing economy.
R5FX is a founding member of the Emerging Capital Markets Taskforce. Initiated by the UK Financial Services Trade and Investment Board, and reporting to Chancellor of the Exchequer, Mr George Osborne, it aims to lead projects, aiding the development of emerging capital markets.
"Launching Indian Rupee during Diwali marks the next phase of our roll-out, as we continue to improve liquidity and add more emerging market currencies to the R5FX marketplace," said Jon Vollemaere, CEO of R5FX. "During 2015, we have delivered a platform that significantly increases efficiency in emerging market trading, with four currencies now live. Moving forward, we will continue to innovate and launch additional currencies, to deliver on our promise of a world-class dedicated emerging market platform. Our immediate next step is to build Indian Rupee liquidity during the London day. Namaste R5FX Rupee."
Indian Rupee trading is available on both InterBank and OpenMarkets liquidity pools. InterBank is designed for bank traders only, whilst OpenMarkets is open to all institutional FX traders, from banks and non-banks.
R5FX, the London FinTech start-up, is expected to stimulate growth in the trading of emerging market currencies, as the market migrates from being largely voice and exchange traded, to a transparent and efficient screen-based market, providing deeper liquidity and increased capacity for all.
Contact
Brandex Financial
Jake Smith
+44 7860-779802
www.brandexfinancial.co.uk

Contact