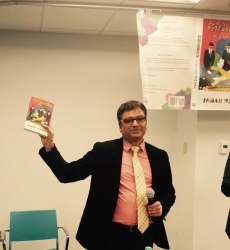 Morrisville, NC, November 14, 2015 --(
PR.com
)-- Coinman, a thoroughly modern Indian folktale, presents a humorous portrait of a nonconformist who triumphs without trying. ~IndieReader.
Coinman, a junior level office worker in India, has a number of eccentricities. The laughingstock of the office, he finds no relief at home; his wife Imli, an obsessed actress, completely vanishes into each role. When tough bully, Hukum, beautiful enchantress, Tulsi, and the office sage, Ratiram, unite the office to conspire against Coinman, they have no inkling of an apocalypse looming inside the office.
The book is available at Amazon and Barnes & Nobles.
"I was quite captivated by storytelling since my very early childhood. I started writing 'Coinman: An Untold Conspiracy' in early 2003, at Bangalore in India, and finished it in late 2007."
- Pawan Mishra
About Pawan Mishra:
Pawan Mishra is a leader in the technology and finance industries. He completed his education at the Indian Institute of Technology, Kanpur. He spent the first eighteen years of his life in the small town of Aligarh in India and discovered his love of storytelling, reading, and writing during this time. Pawan now lives in Morrisville, North Carolina, with his wife, Ritu, and two daughters, Mitali and Myra.
Visit him at:
www.pawanmishra.com
pawanmishrablogs.wordpress.com
Target audience:
The book targets 13+ readers looking for creative humorous fiction with rich characters and vivid anecdotes. The book also deals with surrealism, life's pervasive weirdness, and symbolism of the human psyche. The audience would relate to and enjoy the interesting backdrop of an office in a small city, every day characters, and the mammoth gossiping culture.
About Lune Spark L.L.C.
Lune Spark L.L.C. is based in Morrisville, NC. It's engaged in the business of producing animation and publishing books.
For more information or to schedule interviews please contact:
Coinman: Lune Spark L.L.C
PO Box 1443, Morrisville, NC, 27560
Phone: (919)809-4235
Email: coinman@lunespark.com
Website: www.coinman.info
The high-resolution JPEG images of the book cover and author photo are available on below URL's.
Book Cover: http://www.lunespark.com/sites/coinman/img/bookcover.jpg
Author's photo: http://www.lunespark.com/sites/coinman/img/pawanauthor.jpg
Social Media:
https://www.facebook.com/coinmanthenovel/
https://www.facebook.com/pawantheauthor/
https://www.facebook.com/LuneSpark/
https://twitter.com/coinmanthenovel
https://twitter.com/pawwyymishra
Quotes from the book:
https://www.goodreads.com/work/quotes/47483150-coinman-an-untold-conspiracy
Sample Chapter:
http://www.lunespark.com/sites/coinman/SampleChapter.pdf