Seoul Has Successfully Concluded the Seoul International Finance Conference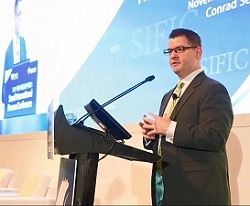 New York, NY, November 23, 2015 --(
PR.com
)-- The Seoul Metropolitan Government (SMG) has successfully hosted the Seoul International Finance Conference 2015 at Conrad Hotel, Yeouido, where the main topics were the paradigm shifts in the financial industry and the path Seoul will travel down as a financial center. The speakers and attendees shared developmental strategies for the finance industry that have been implemented at different global financial hubs in the context of rapid changes in global financial issues, such as the internationalized yuan and emerging FinTech industry; based on the shared information, they discussed how Seoul can grow into a global financial city.
In the opening address, Park Wonsoon, the mayor of Seoul, stated, "The financial industry covers 13% of gross regional domestic production and has positive effects on job creation. It means a lot that financial experts gather in Seoul to discuss strategies for establishing a financial center, in particular now when new business trends such as FinTech and the internationalization of the yuan are showing up." He added a request for extensive attention to Seoul and interest in developing Seoul into an international financial center.
During the keynote speech, David Wright, vice chairman of Barclays, shared his success story in regard to the yuan and FinTech industry, mentioning the conditions for becoming an offshore financial hub for the yuan and making proposals to develop the FinTech industry.
The programs were followed by three sessions: Paradigm Shift in Financial Industry after the Financial Crisis, Recent Changes in the Competitiveness of Major Financial Centers, and Differentiation Strategy of Seoul Financial Industry. In Session I, William Pesek, executive director of Barron's Asia, gave a presentation under the same title as the session, and Sally Loane, CEO of Financial Services Council, Australia, addressed the "financial hub strategy of major financial centers after the financial crisis."
Contact
Invest Seoul
Louise Jeong
82-2-6000-5208
investseoul.com

Contact