PACTO Visit KICKBACK Chelsea December 2015
Stamford Bridge London Hosts KICKBACK Chelsea – the UK's Leading Exhibition of Retro and Contemporary Motorcycles.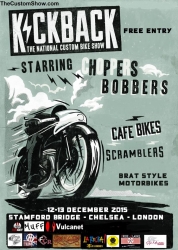 San Jose, Costa Rica, November 21, 2015 --(
PR.com
)-- Stamford Bridge, London's premier niche exhibition venue located on London's Fulham Road, has secured KICKBACK Chelsea, a free two-day exhibition of custom and handcrafted motorcycles and the first of its kind to be staged in the capital.
The exhibition is the first of a three part series kicking off at Stamford Bridge on 12th and 13th December 2015 followed by Stoneleigh Park in Warwickshire in April 2016 and in Cheltenham in August 2016. The free-to-visit KICKBACK Chelsea event will be hosted in The Great Hall at Stamford Bridge, a 1,400sqm blank canvas space ideal for the wall-to-wall showcase of up to 100 stunning custom motorbikes, ranging from café racers, street trackers, choppers, bobbers and brat style motorcycles. Simon Hunter, Head of Brand & Value at Stamford Bridge comments:
"We're delighted to have been selected as the venue of choice for KICKBACK Chelsea's first ever London exhibition and secured such a vibrant and engaging showcase for visitors to Stamford Bridge - it's going to be incredible watching the space transform into such a visually dynamic arena full of vintage and new motorcycles from around the world and we're looking forward to a fantastic two day consumer event that showcases another side to how the versatile space within our legendary sporting stadium can be used."
With a fine collection of unique handcrafted motorcycles on display, the event has attracted exhibitors and suppliers from across the globe, including Pacto from Costa Rica showcasing vintage apparel, helmets and bags and Los Angeles based clothing company Gigi Montrose. Other suppliers include; La Rocka, Pride and Clarke, Lipstick and Gearstick, Neal's Yard Remedies, Fastec-Racing, Helite, Hi-Spec Coatings, Gold Top, Vulcanet, Redline Clothing, Viking Thor, Raw Steel Choppers, Hurricane Airbrush, Takakuda, RD Customs plus custom and handcrafted bike makers such as Untitled, Run Riot, Curiosity Moto, Down and Out Café Racers, Two Wheels Miklos and Muff, each expecting to attract several hundred visitors from across the UK.Show organiser Lorne Cheetham says, "We are excited to be bringing this two-day biking event to the capital at the iconic Stamford Bridge venue; We're expecting an eclectic gathering of custom bike lovers plus a great number of top-drawer custom craftsmen, engineers and designers from across the globe to showcase the very best in the biking world and provide them with the perfect opportunity to interact with like-minded bike enthusiasts in the most ideal of exhibition venues."
Its location just 3 minutes from Fulham Broadway underground station and flexible venue space - including the impressive Great Hall with multiple breakout rooms – underlines the venue's suitability for small and niche exhibitions of this size and scale.
The venue has seen a 26% increase in exhibitions over the past year which is a significant growth on 2014. Whilst more than a quarter of Stamford Bridge's events business can be attributed to the exhibition sector last year, events such as KICKBACK Chelsea only to serve as evidence of the venues capabilities and to maintain its reputation as a leading exhibition venue in London.
For more information, images or to arrange an interview please contact: Arabella Halfhide, Zoe Cosby or Julia Gosling at Davies Tanner - 01892 619100, Arabella.halfhide@daviestanner.co.uk | zoe.cosby@daviestanner.co.uk
Notes to Editors
Stamford Bridge – home to Chelsea Football Club Winners of 'Best Matchday Experience' at the Football Business Awards 2015, Chelsea Football Club offers versatile, flexible space for meeting, dining and sleeping, providing a one-stop destination for a full range of corporate and social events. With world-class facilities and first-class service fitting of the venue's iconic reputation, Stamford Bridge boasts 24 function rooms, 60 syndicate rooms, two restaurants from Marco Pierre White - Marco Grill and Frankie's Sports Bar & Diner - onsite hotels from Millennium and Copthorne and the exclusive Chelsea Health Club and Spa. In addition, the club remain undisputed champions of seasonal and matchday hospitality, with annual packages and bespoke corporate hospitality available to suit any occasion. Stamford Bridge is a London Living Wage accredited employer.
For more information please visit
www.chelseafc.com/events
www.chelseafc.com/hospitality
@StamfordBridgeKickBack Chelsea – London
KICKBACK is in association with sponsors Warr's Harley Davidson, Urban Rider, Krazy Horse, Fastec Racing and Vulcanet. The show takes place at Stamford Bridge, Chelsea, London on the 12-13th December 2015. KICKBACK is organised by ShowCo Limited.
Free tickets to KICKBACK Chelsea are on offer at www.TheCustomShow.com.
Contact
PACTO
Danilo Coto Cru
506 88149049
www.pacto-store.com

Contact