Sales Consulting Firm Klozers Wins New Start Business Award
Sales Consulting specialists Klozers have been acknowledged in this years WeDO Entrepreneur Awards. The company based in Edinburgh, Scotland have already built up an impressive client list both domestically and internationally and have ambitious plans to grow.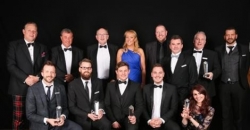 Edinburgh, United Kingdom, November 25, 2015 --(
PR.com
)-- Sales Consulting specialists Klozers won the WeDO Entrepreneurs New Start Business Award for 2015 in front of a packed audience at the Sheraton Grand Hotel in Edinburgh. The WeDO awards celebrate entrepreneurial achievements across every industry and particularly recognise ambition and growth.
Following receipt of the New Start Business Award 2015, Iain Swanston, Klozers' Sales & Marketing Director, commented: "We are delighted to have won the WeDO New Start Business Award. We believe that our sales consulting, training and coaching services are consistently the best in class and that this award validates our view and that of our clients. It is also a reflection of the expertise, dedication and hard work of our whole team, who have worked tirelessly to make the business a success."
The four senior partners who run Klozers, Brian Millhouse, James Henderson, Simon Fielding Turton & Iain Swanston, worked with a variety of companies, including Microsoft, Deloitte, Tesco, IBM, and Grant Thornton. As sales specialists they now apply the strategies and skills gained from working with corporates to help start-ups, SMEs and larger organisations to grow their businesses profitably.
The WeDO judging panel was particularly impressed with Klozers track record so far in supporting businesses across differing sectors. These include Technology, Oil & Gas, Financial Services, Healthcare, Transportation, Professional Services and Digital Media. Klozers' ambitious plans for growth also resonated with the judging panel alongside their programmes to support young graduates looking to take their first step into a career in Professional Sales.
Contact
Klozers
Iain Swanston
07565 505969
www.klozers.com

Contact