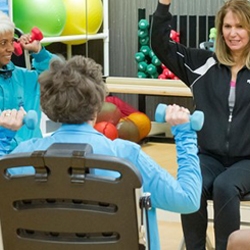 Indianapolis, IN, November 26, 2015 --(
PR.com
)-- The National Institute for Fitness and Sport (NIFS) is pleased to announce a partnership with Trillium Woods, a continuing care retirement community in Plymouth, MN.
Trillium Woods is a brand new senior living community located in greater Minneapolis. The beautiful campus will support healthy lifestyles for its residents with a state of the art fitness center, pool, and group fitness studio as well as easy access to outdoor activities year-round. Trillium Woods offers both an upscale and energetic lifestyle for those who will call it home and the partnership with NIFS fits well with that experience.
NIFS is providing a degreed and certified fitness center manager who will be offering a variety of services to Trillium Woods residents such as senior fitness evaluations and individual exercise prescriptions, creative group fitness classes, equipment orientations and engaging programs like NIFS Active Adventures offerings and their Wellness Lecture Series will also be available. Both Trillium Woods leadership and the NIFS staff will benefit from NIFS data management practices that show both individual resident progress over time as well as overall performance of the exercise program.
Socialization is important throughout the lifespan, but that can become more difficult for adults later in life when the risk for isolation can increase. Moving to a community like Trillium Woods provides its members with a variety of ways to connect with peers and a robust exercise program is one of those options. Research has shown that the benefits of meaningful and regular socialization can improve mental wellbeing, as well as providing a variety of physical health benefits like reduced blood pressure, and decreased pain.
According to Vicki Duvall, Executive Director at Trillium Woods, "Our community health and wellness initiative called Healthy Life Services™ is focused on providing a range of options to our residents that include all eight dimensions of wellness in a safe and friendly environment. Trillium Woods is proud to partner with NIFS as they complement that initiative."
Trillium Woods, in Plymouth, MN, is situated on a beautiful 46 acres that includes woodlands, wetlands, and lake. The community will include walking and biking trails that link to the Northwest Greenway and Medicine Lake Regional trail systems. NIFS will be supporting their fitness center, pool, and group exercise classes as well as other opportunities for exercise outside of the community.
To find out more about Fitness Center Management by NIFS, call (317) 274-3432, e-mail bgarrity@nifs.org or visit www.wellness.nifs.org. NIFS media contact, Trudy Coler (317) 274-3432, email tcoler@nifs.org
National Institute for Fitness and Sport is a non-profit organization committed to enhancing human health, physical fitness and athletic performance through research, education and service.