2008: The Year of the Gnu?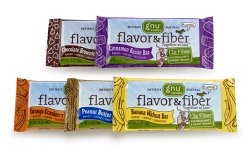 New York, NY, December 18, 2007 --(
PR.com
)-- A "Gnu" movement is taking hold across the country. People everywhere are chanting, "I want my fiber". Dietary fiber, that is. People nationwide are proclaiming that the delicious Flavor & Fiber Bars, made by Gnu Foods, are the inspiration for their fiber-obsession. They are great-tasting, convenient and are a perfect addition to everybody's "on-the-go" lifestyle.
This growing passion for fiber couldn't come at a better time. Ongoing research by doctors, dieticians and nutritionists shows the numerous health benefits of eating more fiber. Health professionals say that, "Fiber is the hardest working food in your diet." No wonder that 2008 is poised to be "The Year of The Gnu".
Overeating and seasonal weight gain are challenges that we face during the holiday season. A fiber-rich diet is a great strategy to curb your cravings. Diets rich in high-fiber foods, like Gnu Foods' Flavor & Fiber Bars, will fill you up with fiber instead of sugar and fat. You'll feel full with fewer calories…and will eat less.
Gnu Foods loyal customers include:
• Dieters who are counting calories and POINTS® -- each bar is Low Fat with only 130-150 calories, depending on the flavor
• People looking for a satisfying, heart-healthy snack
• Parents looking for a wholesome and delicious snack for their children
• People with digestive disorders looking for a delicious, entirely natural, food-based solution for their conditions
Gnu Foods started in 2004 with a new way to get the dietary fiber your body needs: in a delicious, baked bar, each with nearly 50% of your Daily Value of Fiber. Now it's easy to get the fiber you need for weight loss, heart health and natural regularity. Each bar provides 12 grams of Dietary Fiber, has just 3 grams of Fat and tastes great! Say goodbye to bad taste, dry cereals, unpleasant laxatives and ingredients you can't pronounce. Gnu Foods' Flavor & Fiber Bars have the most fiber in a delicious baked bar. And they're entirely natural.
The bars are available in five scrumptious flavors—Banana Walnut, Cinnamon Raisin, Orange Cranberry, Chocolate Brownie and the "Gnu-est" addition, Peanut Butter.
Make 2008 a Happy "Gnu" Year.
Join the Movement.
About Gnu Foods
Gnu Foods is a NY-based, functional food company that makes all natural, great tasting foods that help address specific nutritional needs and health conditions. It was founded in 2004 with the introduction of its Flavor & Fiber Bars, which promote weight management, regularity and heart health.
The company is dedicated to the philosophy that being healthy makes us feel good inside and out, physically and emotionally. Gnu Foods creates foods that are made with all natural ingredients and are designed to work in harmony with our bodies.
The company's name was inspired by the African Gnu (pronounced "noo" or "nyoo").The Gnu has an ox-like head, the mane of a horse, and the horns of a buffalo. It may look unusual from the outside, but inside, it functions beautifully. Flourishing in the grasslands and plains of Southern and Eastern Africa, the Gnu lives in balance with nature.
Gnu Foods Flavor & Fiber Bars are sold at natural and specialty stores nationwide including: Balducci's, Central Market, Fairway Markets, Food Emporium, Stew Leonard's, Trader Joe's, The Vitamin Shoppe, many Whole Foods, and a host of independents nationwide. The company also sells its delicious bars online at www.GnuFoods.com.
For information, contact:
Gnu Foods
1123 Broadway
New York, NY 10010
Phone: 212.380.1514
Fax: 815.717.7614
http://www.GnuFoods.com
info@GnuFoods.com
POINTS® is a registered trademark of Weight Watchers, International, Inc.
###
Contact
Gnu Foods, LLC
Andrew Brooks
1-877-703-1085; 1-212-380-1514
www.GnuFoods.com
Robyn Kasler
rkasler@gnufoods.com

Contact