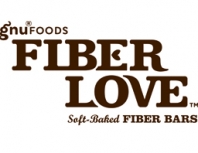 Gnu Foods is a company of fiber fanatics intent on redefining the fiber experience! Gnu Foods was founded in 2004 with the release of the Flavor & Fiber bar. After eight years of taste-testing, recipe-creation, conversing with customers, and dreaming up a design for a better bar, Gnu Foods entered a renaissance of sorts – and came out on the other side clutching a FiberLove bar held high.
With an appealing, updated look and a new culture devoted to developing relationships and delivering feel-good moments to its friends and fans, Gnu is now a new – and friendlier – beast.
For more on Gnu Foods, the launch of FiberLove, and nutritional information about the bars, connect with FiberLove on Twitter at @FiberLoveBar, at Facebook.com/FiberLove, or through FiberLoveBar.com.