Mission Federal Credit Union Celebrates Opening of Carmel Mountain Ranch Branch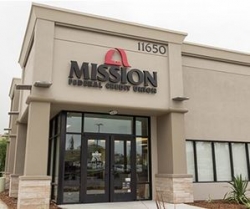 San Diego, CA, December 10, 2015 --(
PR.com
)--
Mission Federal Credit Union
, the largest, locally based financial institution exclusively serving San Diego County, with $2.8 billion in assets and over 25 branch locations serving more than 187,000 customers, celebrates the opening of its new Carmel Mountain Ranch Branch, located at 11650 Carmel Mountain Road, San Diego, CA 92128.
"The community and local businesses have really given us a warm welcome," said Patti Zwink, Branch Manager. "I'm thrilled to be working in the community where I've lived for over 25 years, and my kids are raising their own families in this community. Now I get to work at this new Mission Fed Branch and help the people in the area with their financial goals. It's like coming home."
The Mission Fed Carmel Mountain Ranch Branch offers all of the credit union's time and money-saving services, including an envelope-free walk-up ATM. Mission Fed's bottom line is the success of its customers, and that includes opening new branch locations.
About Mission Federal Credit Union:
Mission Federal Credit Union is a not-for-profit organization providing a wide variety of financial services to meet the needs of its customers. With more than $2.8 billion in assets, over 25 local branches, and more than 187,000 customers, Mission Fed is the largest, locally based credit union exclusively serving San Diego County. Mission Fed enhances the lives of its customers through financial education and financial services. In addition, Mission Fed contributes to hundreds of non-profit educational and community organizations. At Mission Fed, your success is our bottom line. All San Diegans are welcome. Federally insured by NCUA. To learn more, visit www.MissionFed.com.
Contact
Mission Federal Credit Union
Terri Miracle
800-500-6328

Contact