LEAP Makes the Holidays Brighter for D.C. Area Youth
In its annual gift-giving tradition, LEAP, LLC, leads the way for the annual LEAP toy drive, helping to ensure brighter holidays for disadvantaged area youth.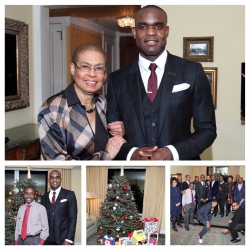 Washington, DC, December 24, 2015 --(
PR.com
)-- Last week, Lawrence Executive Alliance of Professionals (LEAP), LLC, spearheaded efforts for its annual toy drive for disadvantaged children in the D.C. Metropolitan Area. Engaged annually in gift-giving efforts that will benefit families and communities that need it most, LEAP is driven by what its CEO, Dr. Clayton Lawrence, considers to be one of the most important and rewarding parts of the holiday season: making children happy.
"Every child should have the opportunity to experience joy and happiness during the holiday season," Lawrence stated. "The toys that we are able to collect, while they may not seem much to an adult, can truly brighten and make this time of year magical and special for the children we serve. That is why this event is so important to me, the LEAP organizations, and so many other prominent leaders in the D.C. community, and why it is one we work to improve upon each and every year."
An event that was designed to embrace unfortunate families and children during the holidays, LEAP's annual toy drive has been championed and hugely supported by Congresswoman Eleanor Holmes Norton. "Congresswoman Norton has given nothing but unwavering support to this event since it began, and we are so grateful for her presence and commitment to it annually. We are humbled that she sees the same vision and significance in this event that we do."
Aside from the support of community leaders like the Congresswoman, LEAP would be remiss if it did not acknowledge the community itself for its strong support of the event each year. Lawrence addressed the community of supporters stating, "There is such a large number of people that make this event a success each year, so much so that it would be impossible to thank them all. From the people who make monetary donations online, to those who purchase and drop off toys in the weeks leading up to the event, we could not make the impact that we make in these children's lives without each and every one of you. If you gave time, money, or gifts to help make this event successful, we cannot thank you enough."
This year, LEAP went a step further to include other young people in on the gift-giving. LEAP, through both LEAP, LLC, and LEAP Foundation DC, are organizations that maintain a focus on the mentorship of young people. Dr. Lawrence felt that this year's toy drive would be an excellent opportunity for youth that have been fortunate enough to not come from challenging and underprivileged backgrounds to be a part of the event. "When you can instill the importance of serving and helping others in the next generation, especially in youth that may not have had to overcome the challenges that some who we are giving to each year have experienced, it ensures that we are empowering future generations to find the power in kindness, compassion, and servant leadership. These are qualities that the world needs more of and we look to impart them to young people every chance that we get," Dr. Lawrence concluded.
To learn more about LEAP's annual toy drive, drives from previous years, and how you can help support next year's event, visit
www.leap4staffing.com
.
Contact
Lawrence Executive Alliance of Professionals
Dr. Clayton Lawrence
(202) 349-4089
www.leap4staffing.com

Contact