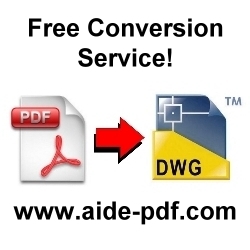 Smyrna, GA, January 06, 2016 --(
PR.com
)-- PDF files are great for sharing data, but without additional software tools besides the ubiquitous Acrobat Reader, there isn't much that can be done with a .pdf file short of viewing and printing.
Over the years, BacktoCAD Technologies LLC Software Print2CAD 2016 has been developed to turn data from a .pdf file into a workable vector equivalent as .dwg or .dxf.
Print2CAD 2016 not only uses conversion and vectorization methods, but also uses OCR (Optical Character Recognition) to reconstruct the content of a PDF or raster file. The program can also recognize the PDF text that has been deconstructed into polyline fields, and/or pixel pictures as full and editable CAD text.
Print2CAD 2016 converts and vectorizes raster pictures from PDF files. The input files can be done using a scanner or generated directly from CAD systems in different quality levels.
BacktoCAD offer free online service to take .pdf files and email back a .dwg file at:
www.aide-pdf.com