You First Foundation Donates $16,000 to Houston's HealthBridge Children's Hospital
You First Foundation has donated $16,000 to Houston's HealthBridge Children's Hospital so the hospital can buy items to lighten up kids' hospital stays.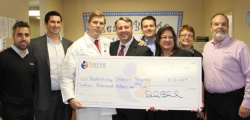 Houston, TX, January 07, 2016 --(
PR.com
)-- The You First Foundation (www.youfirstfoundation.net), a Houston-based non-profit organization that generates research funds and provides support for brain injury victims' families, has made a significant donation to HealthBridge Children's Hospital of Houston.
HealthBridge is a pediatric specialty acute care facility that serves as a bridge between the hospital and home for families facing complex medical issues following a serious injury or other life-altering event. Its goal is to provide excellent medical care via a multidisciplinary team and then send patients and families home with the tools and knowledge needed to confidently handle at home-care and assure the continuity of care.
The You First Foundation donated $16,000, which HealthBridge Children's Hospital is using for a variety of items to aid the young patients' multi-sensory and cognitive development. That includes outdoor toys, sports gear, and electronic equipment
"Play is very important to our patients," explained Kimberly Walleck, Child Life Specialist at HealthBridge. "It helps them cope with hospitalization and prevents them from being traumatized. It helps promote their development and keeps them from regressing if they are in here a long time."
Walleck said with the donation from the You First Foundation, HealthBridge has also purchased an iPad that not only helps entertain children, but more importantly can distract them when they are undergoing some medical procedures.
The You First Foundation was formed by colleagues of young mother Wendy Kwan after her death from a brain aneurism in 2014. Wendy was an employee of Houston's First Service Credit Union (www.fscu.com/about-us). At the time of her death, Wendy and her husband Ken Lee had a young daughter, Madeline, and were expecting a second daughter. Doctors were able to save the unborn daughter, Olivia, through emergency surgery.
Wendy's friends and co-workers created the foundation to generate research funds for neurointensive care and neurorecovery centers and to support the families of brain injury victims.
The foundation's donation to HealthBridge was drawn from the $65,000 that the foundation has raised in its first year, which includes the proceeds of the inaugural Wendy Kwan Memorial Golf tournament in October, which drew more than 100 golfers and raised $30,000. The foundation will be awarding more funds in the near future while also saving for long-term projects that will benefit children's hospitals locally.
"HealthBridge is doing wonderful things for its young patients, and helping them play and take their mind off hospitalization is a big part of keeping the kids' spirits up," said David Bleazard, chairman of the You First Foundation and President of First Service Credit Union. "We are happy to be able to help supplement the great medical work that the hospital does, and this is just the start of an ongoing commitment by the You First Foundation to HealthBridge."
About You First Foundation
You First foundation is a non-profit 501(c)(3) public charity that provides support for individuals affected by traumatic medical events and whose goal is to put smiles on the faces of children by assisting with their educational needs. The foundation is assisted by the success of First Service Credit Union's charitable events and fully supported by employees. You First Foundation supports charitable children's groups, the Nexus Health Systems (including Healthbridge Children's Hospital, and Touchstone Neurorecovery Center), the Leukemia & Lymphoma Society, and more. You First Foundation believes that with further research, brain injuries can be fully recoverable. Visit www.youfirstfoundation.net to follow the cause.
Photo caption: pictured left to right - Ricardo Meija (You First); Tony Bonilla, Health Bridge CEO; Dr. John W. Cassidy, Health Bridge Founder/Chief Medical Officer; David Bleazard, Chairman of the You First Foundation and First Service Credit Union's President/CEO; John Jackson, Barbara Kriesel, Debra Little, and Frank Halstead with the You First Foundation/First Service Credit Union.
Contact
You First Foundation
Kristine Tanzillo
903-865-1078
www.youfirstfoundation.net

Contact