Bang It Ammo is Now the Southeastern Distributor for EEZOX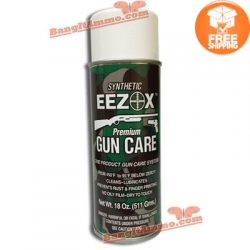 Greenville, SC, January 12, 2016 --(
PR.com
)-- BangItAmmo.com, an online retail supplier of firearms, ammunition and gun related accessories, is pleased to announce they are now the United State's southeastern distributor for EEZOX gun care products.
Since 1984, EEZOX has become a leader in the field of all-purpose penetrating and lubricating oils, corrosion and rust preventative lubricants and lubricants specifically created for cleaning, protecting, conditioning and preserving guns, black powder guns, gun barrels and bores along with knives and other hunting equipment.
After years of research and development, in 1984 EEZOX hit store shelves and during the past 32 years has earned a very loyal following. Because of EEZOX's chemical make-up the entire line consists of only two products...EEZOX Premium Gun Care and EEZOX Premium Gun Duster; with EEZOX fanatics swearing using these two together will easily and affordably replace everything else currently in your gun cleaning kit.
EEZOX Premium Gun Care includes three primary synthetic components, that when combined, form a high density solution all-in-one product, making gun maintenance super quick and effective. This multi-purpose solution does triple duty as a solvent, lubricant and prevents both rust and fingerprinting. The solvent quickly evaporates; leaving a protective dry coating on the entire metal surface both while the weapon is in use or resting in its protective storage case. No additional oils, emollients or rust protection products are required.
This total gun care system is also non-flammable, eliminates jamming, residue buildup and stiff actions and has been proven to perform under the most adverse conditions imaginable, including the Gulf War Operation Desert Storm. EEZOX Gun Care is designed to work on all size and caliber of weapons along with both black powder firearms and bow cams. Never feel more alive than when out hunting in the dead of winter? EEZOX has your choice of weapon covered. It has been tested and proven to provide outstanding protection in a wide range of temperatures from 450 degrees to 95 degrees below zero.
EEZOX also offers a non-flammable Premium Gun Duster. Easily and safely remove contaminates from all external surfaces along with those hard to purge internal areas with pinpoint powerful blasts of dry and pure filtered static gas. Offering high pressure delivery with no ozone depleting chemicals, EEZOX Gun Duster is safe for most plastic components, is residue free and non corrosive.
The staff at
BangItAmmo.com
has used EEZOX for years and they fully endorse and recommend both their Premium Gun Care and Gun Duster for all your cleaning, lubricating and protection needs. Please click
here to order.
BangItAmmo.com
is excited to be selected as the southeastern EEZOX distributor and look forward to assisting all their current and future customers with their gun care needs.
Contact
Bangitammo.com
Angela Jones, Marketing Department
877-533-5527
bangitammo.com

Contact