The Nation's Most Effective Case Studies and Technologies in Medicaid to be Revealed at Medicaid Innovations, 2016
Upcoming Medicaid Innovations, 2016 to showcase Medicaid programs that are working across the country and will feature leading technologies. Successes include the Hue-Man Partnership from Minneapolis, MN, and Innovative Healthcare Delivery supporting firefighters from the City of Las Vegas, NV. A panel from Harvard Medical School and Law School, will discuss nutrition for compromised individuals. Xerox and over twenty-five others will showcase Medicaid technologies.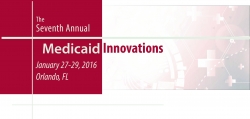 Boca Raton, FL, January 21, 2016 --(
PR.com
)-- Strategic Solutions Network will provide an inside look into the nation's most effective case studies in Medicaid service and technology at its upcoming Medicaid Innovations 2016 conference. Medicaid Innovations (
www.medicaidinnovations.com
) is scheduled for January 27 – 29, 2016 in Orlando, Florida. This seventh annual event will convene hundreds of Medicaid professionals and will showcase diverse Medicaid programs that are working across the country. The conference will feature Medicaid technologies and solutions from over twenty-five companies such as Xerox, Finity, Health ELT, and Shared Health.
· Of special note are the achievements of the Hue-MAN Partnership Project which brings together health care, community, and professional organizations to support young and middle-age men, primarily men of color, in Minneapolis, MN. The conference will also showcase Innovative Healthcare Delivery, which supports the City of Las Vegas' Firefighters, each time they are admitted to and released from the hospital. This program alone has reduced hospital re-admission for this group alone by thirty-eight percent.
· A unique panel will address the case for integrating medically tailored meals and nutrition services for nutritionally compromised individuals. This session will include speakers from the Community Servings Program, Massachusetts General Hospital, Harvard Medical School, Center for Health Law and Policy Innovation, Harvard Law School, and the Neighborhood Health Plan of Rhode Island.
· Xerox and Healthcrowd will also discuss the use of technology tools in today's changing Medicaid environment and will explore how text messaging and mobile-enabled apps bring value and improve care and costs for the Medicaid population. This forward thinking event will feature many technology solution providers for healthcare and examine what is done in other states, such as the technology platform built by Finity Communications for the State of New Mexico.
About Strategic Solutions Network: Strategic Solutions Network (SSN) helps decision-makers from leading institutions find, engage, and share strategies and knowledge with their peers on a continuous and seamless year-round basis. SSN hosts dozens of innovative conferences, online communities, and webinars in the areas of healthcare, technology, and finance. For more information please contact Aron Barkan at 561.674.0082 or Aron@strategicsolutionsnet.com.
Contact
Strategic Solutions Network
Aron Barkan
561.674.0082
medicaidinnovations.com

Contact