Salute to Internet Protocol Based Communications Entrepreneurs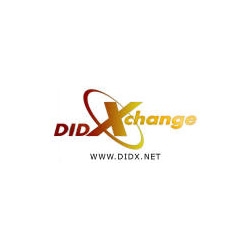 Pensacola, FL, December 27, 2007 --(
PR.com
)-- DIDX Care Team gives the ultimate holiday gift to Internet-protocol based communications entrepreneurs. One of people's most valuable sources of identity is the telephone number. Current and new members of the didx.net wholesale global phone number marketplace are able to buy practically unlimited USA phone numbers now and pay later.
"Get 1000 USA numbers for just $500 per month. Pay after 6 months. Let DIDX help you promote and grow your business. We see it as you making money now and then pay later," states DIDX supervisor Ricky Iqbal.
Current members simply log in to their DIDX account, create a ticket with "I want to order 1000 USA Numbers for $500 and I will pay after X Months." "X" will be filled in with how many months later the member plans to pay. Orders will be considered from 1000 - 50,000 USA phone numbers, with the same great bargain price and same credit limit.
*Credit dept has to approve your company's credit line.
*Credit available on limited area codes only.
*Area Codes under this offer include Ohio and California.
"Some of the most innovative CEOS, both male and female, of the companies using DIDX rock the world with their variety of cool must-have mashups (just check out some of the Facebook applications) and the big traditional "Bells" even getting involved... 2008, a few days away, telcos are poised for double and triple growth with tools like DIDX. Happy holidays and New Year, everyone," Suzanne Bowen, Super Technologies, Inc. shares.
###
Contact
Super Technologies, Inc.
Suzanne Bowen
+1 850-433-8555
www.didx.net
+1 850-439-3332, +1 850-433-8555

Contact