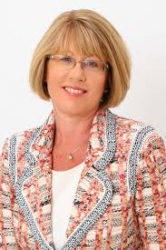 New York, NY, February 19, 2016 --(
PR.com
)-- Gorman brings more than 25 years of experience as a top global business leader in the human capital management sector and will add tremendous value to expand Universum's business in the region. Currently consulting, writing, speaking, and serving on boards of directors, her work and relationships focus on the intersection of culture, humanity in the workplace, and improved business performance. She also authors the popular blog Data Point Tuesday which can be found at www.chinagorman.com.
"I am very excited to join the Universum team! In this period of intense competition for talent – especially talent just entering the workforce – Universum global data, research and analytics are unsurpassed in the marketplace and are helping employers all over the world make smart and effective employer branding decisions." - China Gorman
"We are delighted to have China Gorman join the Universum family as Chairman of the Board for our North America operations. China brings lots of experience both from a local but as well global level that will enable us to continue our growth as well help our clients in a much deeper way." - Petter Nylander, Global CEO Universum
Universum is expanding rapidly its product offering and geographical presence to serve the high demand in employer branding solutions. The company has entered new markets in Africa, South America, Middle East and Central Europe and launched last year its certification program the
Employer Branding Academy
.
About Universum
Universum is the global leader in employer branding. Advising the leading employers in the world to better understand, attract and recruit talent. During our 25+ years we have established ourselves in 60 markets with 15 offices covering the world. Our solutions are actionable research, strategic advisory, data driven communication solutions - and being a pioneer in social media solutions in the world for talent branding, sourcing and analytics. A trusted partner to over 1,700 clients, including many Fortune 500 companies, as well as global media partners that publish our annual rankings and trend reports, with 2,000 partner universities worldwide conducting research on the career and employer preferences of top talent. Universum surveys on an annual basis over 1,500,000 students and professionals worldwide. For more information, go to
www.universumglobal.com
.