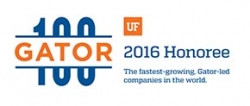 Orlando, FL, February 23, 2016 --(
PR.com
)--
The Postal Solutions Companies
was named as one of the fastest growing businesses owned or led by University of Florida alumni. The UF 2016 Gator100 recipients were named during a reception on February 18, 2016 on campus in Gainesville, Florida.
Lead by the UF Warrington College of Business Administration and the Center for Entrepreneurship & Innovation (CEI), The Gator100 program's results were analyzed and verified by Ernst & Young. The calculations were based off of each company's compounded annual growth rate (CAGR) over the three-year period of 2012, 2013 & 2014. The Postal Solutions Companies were ranked #89 with 29.5% growth. "The selection period consisted of our 12th, 13th and 14th year in business. It's amazing to have seen such growth at such a late stage," said Meddin.
Founded in 2000 by University of Florida college student Craig Meddin, The Postal Solutions Companies manage daily mail delivery on/off-campus throughout the United States and through a wholly owned subsidiary
Logware®
, offers two Software-as-a-Service products (PackageLog™ and TrackItLog™) available worldwide. The Postal Solutions Companies expanded from Gainesville, Florida in 2001 and now manages mail delivery for nearly 70,000 recipients across 31 U.S. cities. Since it's inception, Logware® has helped clients manage over 2.5 million inbound packages in five countries via automated SMS & email reminders.
Meddin earned his BA Political Science in 2001 from the UF College of Liberal Arts & Sciences. Before graduating, he was appointed the UF Student Government Off-Campus Housing Director. "I was fighting against the idea originally. The more I learned about the situation, the more evident it became that someone should solve this pain point, and from there our company was born," said Meddin. "We're proud and grateful that our first two Gainesville clients are still clients today!"
About The Postal Solutions Companies & Logware®
Founded by college students in 2000, The Postal Solutions companies grew from servicing mail delivery for two student housing rental communities in year-one, to managing by-hand, daily mail delivery in 30+ cities for 65,000+ mail and package recipients coast-to-coast. US Postal Solutions, Inc. is a fully licensed, bonded and highly insured organization serving the United States. We offer our mail delivery management clients and their residents customer service via 24/7 toll-free live-answer telephone and electronic support. Our team includes professional corporate management team with decades of experience in student housing mail delivery management.
Contact
Nicole V. Scott
US Postal Solutions, Inc.
Content Marketing Coordinator
PO Box 2851 Orlando, FL 32802
Office: (866) 378-8157
nicole@uspostalsolutions.com