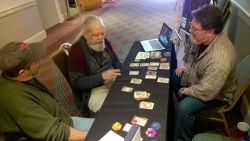 Rehoboth, MA, March 02, 2016 --(
PR.com
)-- Move Rate 20 Games LLC announces the launch of their first Kickstarter for the tabletop-based card game "Master of Spies." Master of Spies is an easy-to-learn card game that's played with a poker-sized deck of cards and two to three friends, each game lasting about 15-20 minutes. It was created in the spirit of classic card games like Rook® and Mille Bornes®. Each turn presents a new puzzle as you navigate the varying cards in your hand to the ever-changing landscape of the game trying to outwit your opponents and place your agents in the most valuable and sensitive locations. Each Faction has beautiful, unique artwork for all the courtly cards created by local New England illustrators. With Master of Spies, Move Rate 20 Games launches the fantastical world of the "Eldinar Game" series, which they hope to produce over the next few years.
The Kickstarter campaign launched on February 29th (taking full advantage of the Leap Year) and will be active through March 28th. The basic backer level, which will include a physical copy of the game, will be $14 + S&H for U.S. and Canadian backers. Four lucky supporters at the highest backer level will get their name and likeness (both adjusted to fit the world) on game cards. The Kickstarter page can be found at http://kck.st/1TKUcGM.
"Our goal is to use Master of Spies to introduce casual and more serious game lovers alike to the world of Eldinar," said Stephen Price, Marketing & Art Director. "The game is fast and easy to learn, making it perfect for a quick family game night, filler game while waiting for friends to arrive, or an evening's entertainment by tallying several game scores together."
The game has been played with people from 10 to 80 years old with very positive feedback. In fact, one recent player commented that the game felt like something a group of friends would play repeatedly for years. Gaming legend Frank Mentzer played and called Master of Spies a "Very solid family game with appeal for Gamers."
About Move Rate 20 Games
Move Rate 20 Games LLC is a new startup gaming company formed from a group of lifelong gaming fans who decided to turn their passion into an active participation in the gaming industry. Learn more at www.moverate20.com, or follow them on Twitter @MoveRate20