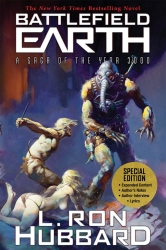 Hollywood, CA, March 02, 2016 --(
PR.com
)-- Galaxy Press, publisher of the fiction works of master storyteller L. Ron Hubbard, announced their entrance into the world of Cosplay with Terl, the chief of security on Earth from the planet Psychlo, based on the internationally bestselling novel "Battlefield Earth."
Earth has been overrun by aliens since their first attempt to reach intelligent life forms with Voyager 1 was picked up by an alien reconnaissance drone. With a map providing directions to Earth etched on a gold disc, it was very easy to send gas drones in to wipe out mankind and so begin gutting the planet of its mineral wealth. The story is set 1,000 years in the future and all that stands between mankind and total extinction is a courageous young man determined to rally the scattered tribes of Earth to take on the technologically advanced oppressors.
Tom Spina Designs (www.TomSpinaDesigns.com) is producing Terl based on the likeness as created by Frank Frazetta, who L. Ron Hubbard called "The King of Illustrators." Tom Spina Designs have taken meticulous care to stay true to the Terl image on Frazetta's art work, which also serves as the cover art for the new edition of "Battlefield Earth" releasing in June 2016.
Terl will appear at major comic and sci-fi conventions, as well as with street teams at colleges and bookstores across the US, Canada and the UK.
"With the amount of interest in Terl as a character everyone loves to hate," stated Galaxy Press President John Goodwin, "it became very obvious that Terl would also be a perfect character to cosplay. Social media surveys on who is the most evil have found Terl to be neck and neck with Darth Vader."
"Battlefield Earth" was written in celebration of 50 years as a professional writer. Hubbard wrote, "To show that science fiction is not science fiction because of a particular kind of plot, this novel contains practically every type of story there is—detective, spy, adventure, western, love, air war, you name it. All except fantasy; there is none of that. The term 'science' also includes economics and sociology and medicine where these are related to material things. So they're in here too."
For more information about "Battlefield Earth" and the upcoming release, go to
www.GalaxyPress.com
.