Jeffery Leving's "Delight" Featured in Top Art Exhibition in Virginia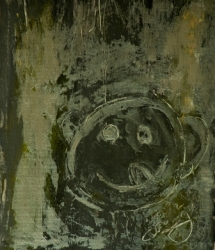 Chicago, IL, March 03, 2016 --(
PR.com
)-- Noted artist and famed attorney Jeffery M. Leving is featured in artspace gallery's prestigious exhibition, "Within Reach," held at Zero East 4th Street in Richmond, Virginia. Leving's painting "Delight" (14.75x17.75 in), acrylic and oil on canvas, is featured and auctioned at the exhibit, which opened on Friday, February 26. The exhibit and Silent Auction continues through March 12 when it culminates in a Live Auction.
Leving's work evolved into this unique painting style with mythological content inspired by primitive and surrealistic art. In his paintings, Leving combines figures and faces with abstract forms, using visceral mark-making and serene compositional economy. These paintings possess an irresistible energy as a product of Leving's innovative aesthetic.
Celebrated Actress Queen Latifah acquired one of Leving's paintings – a powerful abstract of Native-American theme, epitomizing Leving's instinctive brilliance as his work fluctuates between representational and abstract modes of expression, thereby capturing the chaotic and disjointed nature of existence.
About artspace
artspace began in 1988 as an association of artists interested in exhibiting their own work and providing a space for other artists to reach a wider audience. Since then, artspace has maintained a gallery committed to showing first quality visual art in a variety of innovative styles and media. artspace's "Within Reach" exhibit features works from over 60 artists. The Live Auction event takes place on Saturday, March 12, 2016 from 6:30 - 10 pm.
About Jeffery M. Leving
Jeffery M. Leving is a visual artist and the author of three ground-breaking books; the most recent - "How to Be a Good Divorced Dad," which received an endorsement from Francis Cardinal George of the Archdiocese of Chicago and praise from President Barack Obama.
For more on Leving's artwork visit: www.LevingGallery.com.
Contact
Law Offices of Jeffery M. Leving, Ltd.
Nikoleta Morales
312-493-9809
www.dadsrights.com

Contact