Helping Bags, a Local San Diego, CA Community Outreach Program Gives Back to the Homeless
Helping Bags was created as a local outreach program for the homeless of San Diego, CA to give free bags filled with essential items such as water, food, toilet paper, new socks, and other products needed to survive on the hard streets.

San Diego, CA, March 07, 2016 --(
PR.com
)-- Helping Bags was conceived with the simple idea of assembling a bag filled with essential items needed to survive while homeless living on the streets in San Diego, CA. The bags contain items that most of us take for granted but are invaluable to others. Items included in a Helping Bags bag are: Bottled water, box of raisins, throat lozenges, pair of heavy duty socks, roll of toilet paper, toothbrush kit with toothpaste, bar of soap, bandages, and organic food bar. All items are new and purchased the weekend before a Helping Bags event. These bags would then be handed out directly to people in need for free.
The founder of Helping Bags, Evan Pickens, wanted a new way to give directly to people in need instead of simply giving a monetary donation to an established charity that may or may not use most of the cash donation to the people the charity focuses on. More and more news has come out that many charities are abusing donations for outrageously high administrative costs. By creating Helping Bags as a local outreach program Evan Pickens committed to fund 100% of all costs of the program and decided if Helping Bags turns into a non-profit origination any donation received would go back into making bags. Only recently a donation button has been added to the Helping Bags website based on countless people emailing asking how they can help fund a bag and 100% of these donations go directly into creating a Helping Bags bag.
One weekend a month Helping Bags are handed out by Helping Bags driving around San Diego looking for homeless people who need these items but may not have the means to travel to a homeless shelter during business hours or get there at all. Doing this gives Helping Bags a unique advantage to conventional forms of homeless aid distribution.
Helping Bags has received a tremendous amount of positive feedback from the many social media followers added in a relatively short amount of time. Helping Bags has been steadily increasing the amount of Helping Bags handed out month after month and expect to keep this trend continuing throughout 2016.
Contact
Helping Bags
Evan Pickens
619-363-3555
www.helpingbags.com

Contact
Multimedia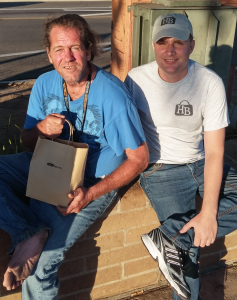 A homeless man who was walking the streets totally barefoot was thrilled to receive a Helping Bags bag with not only new socks but other items he was so grateful for.