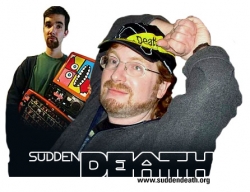 Stockholm, NJ, January 03, 2008 --(
PR.com
)-- For the first time in the 37-year history of the Dr. Demento Show, a single artist held four of the top five most-requested songs of the year. Sudden Death, a New Jersey comedy-rap act that scored Funny Five hits on the show throughout 2007, found themselves at the top of the charts when the year-end Funny 25 countdown aired December 30th.
The number 1 song of the year was Cellular Degeneration, a rant about cell phones that can do everything under the sun except make a decent phone call. Getting Old Sucks, a song that was inspired by the time Sudden Death's front man Tom Rockwell pulled a muscle in his back while tying his shoe, was number 2. And Pillagers, a song that pokes fun at the pharmaceutical industry, appeared at number 4.
Additionally the number 5 song on the countdown featured Rockwell as a guest vocalist. Anorexiac by Seamonkey is a parody of SexyBack by Justin Timberlake that has Rockwell doing the low vocals on the chorus giving Sudden Death four appearances in the top five songs.
Sudden Death is only the second artist ever to hold the numbers 1 and 2 positions. The only other time it happened was in 1981 when "Weird Al" Yankovic burst onto the scene. No artist has done it since.
"Sudden Death really has a way of choosing song subjects that just about anybody can relate to," Dr. Demento said on the year end countdown show.
DJ Particle of Dementia Radio said it was "unprecedented" as she kept track of the hit songs throughout the year. "I have never seen such a domination of the chart like this."
The nationally syndicated Dr. Demento Show has been broadcasting "mad music and crazy comedy" every week since 1970. Sudden Death's first big hit on the show was South Park Junkie in 1998. Sudden Death has also previously shared the number 1 slot of the year in 2002 with The Great Luke Ski on a song called Peter Parker and had the number one song of 2005 with a song called Inner Voice which featured Worm Quartet.
Throughout 2007 Sudden Death released many songs on The Funny Music Project, also known as The FuMP. Dr. Demento has called The FuMP "one of the best things to happen to funny music since Al got weird." Ten of the 25 songs on the year end countdown are available for download at The FuMP's web site www.thefump.com.
Sudden Death's new album Fatal Error will be released in late January by FIDIM Interactive, LLC. It will feature all the songs from the Dr. Demento Funny 25 countdown, and all the songs that have been featured on The FuMP in 2007.
Sudden Death - http://www.suddendeath.org
The Dr. Demento Show - http://www.drdemento.com
FIDIM Interactive, LLC - http://www.fidim.com
Dementia Radio - http://www.dementiaradio.org
The FuMP - http://www.thefump.com
###