Do the Survey on Industrial Ultrasonic Wine Ageing and Win 10 Liters of Sonicated Wine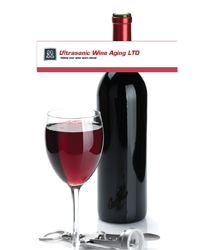 Nelson, New Zealand, March 22, 2016 --(
PR.com
)-- Ultrasonic Wine Ageing LTD has taken a big leap in wine production by introducing world's first revolutionary Ultrasonic Wine Ageing technology for sustainable wine production in and around New Zealand. This one-of-its-kind technique has the potential to completely transform the method of producing wine. While the traditional wine ageing process can consume anything from 6 months to several years of preparation, the ultrasonic technique has proven that a container filled with 10 liters of wine can be matured up to 18 months after only 5 minutes of treatment, with the chemical pre and post analysis unchanged. This superior technology is capable of replacing both the malolactic fermentation and also the ageing in storage tanks. The company is presently conducting a feasibility study about scaling up this new industrial technology in the Nelson region.
State-of-the-art advancement
With the advent of technology, the Company is committed to enabling wineries in Oceania to produce wines, better and more economically. The three-fold objective of saving time, money and convenience can be achieved flawlessly with these ultrasonic systems. Among others, the Company has garnered respect and appreciation for the Unique Selling Points like saving of time, energy and resources of wineries, reduction in production costs, optimum and consistent quality of wine, extending the shelf-life of the resultant wine, etc.
Why Ultrasonic?
The ingenious design of the equipment offers excellent control and generates high efficiency active power. Although a number of techniques have been evolved viz. gamma extent rays, electric fields, etc. and have proven their efficiency in accelerating the aging process to a certain extent, the lack of appropriate conditions might negatively affect the quality of the wine so produced, which shall not be the case while using Ultrasonic.
Global Survey to Success
Owner and inventor Nico van Dongen says: "We talked already with a number of New Zealand wineries and got very positive feedback. We are now keen to understand the acceptance of this proposed unique and highly efficient technology from wine producers all over New Zealand and Australia."
The anonymous survey pops up when visiting the Company's website at
http://www.wineaging.co.nz/
Contact
Ultrasonic Wine Aging LTD
Nico van Dongen
+ (49) (0)2561 9173 898
www.wineaging.co.nz

Contact