Spring Collections by Carolyn Pollack: CP Signature/Relios by CP/Coronation
Designer Carolyn Pollack releases a new line of sterling silver jewelry for Spring.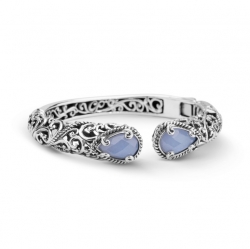 New York, NY, March 21, 2016 --(
PR.com
)-- Carolyn Pollack is a distinctive jewelry designer whose silver and gemstone creations are all designed and hand-crafted in the U.S.A. She is based in Albuquerque, New Mexico but with a huge e-commerce business across the U.S. She is the most-beloved jewelry designer on QVC and has been for the last twenty years. Her fans are legion, and collect every piece as "timeless heirlooms", sharing from one generation of women to another. Celebrity fans of Carolyn's designs also include Eva Longoria, Jennifer Nettles, Miranda Lambert, and Maria Menounos.
For Spring 2016, Carolyn explores nature and florals as a way to express the simplicity, lightness, and the freedom for colorful expression. As Carolyn says about her new Spring pieces, "I love the romance of pastels (including) Pantone Fashion Colors 2016—Rose Quartz and Serenity Blue—but I also love vibrant colors. New jewelry can breathe the life into the classic, timeless pieces of your wardrobe, or inspire you to mix and match in ways things hanging in our closet you never have before! Our Spring Collections can help you transition to your spring wardrobe."
CP Signature
This Collection from Carolyn Pollack includes many of her favorite and most beloved pieces with fresh new colors and semi-precious stones to celebrate spring. With signature touches fans love such as sculptural details, filigree, scrolls, and hand-crafted work, the CP Signature Collection is crafted in bold sterling silver and features lots of color for a most fashion-forward season! This collection also features the much anticipated debut of Rose Quartz and Serenity Blue – Colors of the Year 2016 – incorporating a tranquil warm embrace to the beautiful timeless collection. With bracelets, rings, pendants, earrings and necklaces, this classic collection contains all the of-the-moment stones that will be the star of any wardrobe. Shimmer and shine in tiger's eye, amethyst, mother of pearl, black onyx, malachite, rhodonite, and many other gemstones. Fit Bit charms, the perfect way for you to dress up your Fit Bit, can be worn to make you more glamorous during your workout, and into the day and evening, every bit as chic.
Relios by CP
The Relios by CP Collection is filled with sophisticated, elegant, and special occasion jewelry. Many of the bypass designs, a signature of Carolyn Pollack's intricate, opulent jewelry, feature faceted gemstones: blue topaz, citrine, smoky quartz, and mint green quartz combined with highly-polished, glamorous sterling silver. Another sculptural signature, the rope and scroll design is used throughout the collection. One of the biggest stars of the collection, the X Ring (which comes in a number of colors and gemstones) can be worn on any finger, or midi style for a cutting-edge and chic look. Everything in the collection is meant to elevate the wearer's style quotient.
Coronation
This chic collection features mixed and contrasting metals: brass and sterling silver. From the delicate, romantic Statement Necklace to the bold modernity of the Wide Link Bracelet and the Coronation Mixed Metal Ring, this is a Collection meant to be layered. The scroll embellishment (huge on the runway this season) is of-the-moment, and works for every style of clothing, no matter the occasion! There are also new white Mother of Pearl additions and Citrine jewels, both refined as they are enchanting. Already enchanting with Citrine, this Spring marks the launch of new white Mother of Pearl jewels completing the refined and versatile collection. The complementary tones of the metals, along with the beautiful, hand-crafted shapes will make anybody feel regal.
About Carolyn Pollack:
Carolyn Pollack Jewelry is America's most beloved designer with versatile jewelry that is genuine, wearable, and unique. Inspired by the creativity and confidence of today's woman, Carolyn Pollack Jewelry beautifully combines unexpected color combinations and sculptural styles with the spirit of timeless style that lives in the heart of this distinctive designer and collector. All jewelry is handcrafted in America with genuine gemstones from around the world with signature designs to help you feel and look fabulous.
Carolyn Pollack Jewelry collections can be found in fine jewelry stores, galleries, resorts, and department stores around the United States as well as
www.carolynpollack.com
.
Contact
Carol Leggett Public Relations
Karina Kazimierska
212-727-2155
http://carolleggettpr.com/

Contact