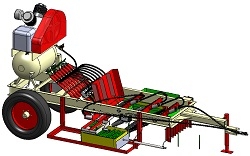 Stockton, CA, March 23, 2016 --(
PR.com
)-- The Geiger-Lund Model OR-2017 selective asparagus harvester will change the asparagus industry.
· Harvest asparagus for as little as 7 cents a pound!
· Works on any asparagus field with single width plantings
· Works with any tractor
· Orients the spears in the lug boxes
· Harvest 2, 3, 4 or more rows with one tractor pulling multiple machines
By completely eliminating any human labor on the asparagus harvester the cost of harvesting asparagus can be dramatically lowered. The only labor is the tractor driver.
The model OR-2017 orients the spears in one direction and drops them into the lugs parallel to each other as though the lugs were hand filled.
The cost per acre to harvest with the Geiger-Lund model OR-2017 asparagus harvester running at 3 mph on a field with 60 inch row centers with 45 cutting days per season is about $650 per acre. With a yield of 3,000 pounds per acre the harvesting cost will be about 22 cents a pound. At 5,000 pounds per acre the cost is 13 cents a pound.
If you hitch 3 machines to the tractor, the cost per acre to harvest drops to about $330 per acre and your harvesting costs for a 5,000 pound per acre yield is about 7 cents per pound! Harvesting 4 or even 6 rows at a time is feasible.
A one row machine on 60 inch centers at 3 mph and running 20 hours per day will cover about 35 acres per day. Pulling three machines with one tractor would cover over 100 acres per day.
· Eliminate labor problems.
· Begin and end your season when you want.
· Great for small growers and big growers alike.
· Be competitive with foreign imports again!
· Bring our crops back to the United States of America!
· Low price: $50,000 for one machine.
Please visit our website at
asparagusharvester.com
for more details.