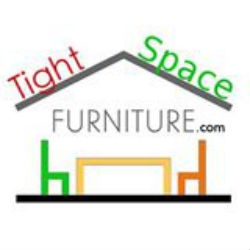 Porter, TX, March 29, 2016 --(
PR.com
)-- Amalie Lopez (Amy) from Porter, TX launched a new website called Tight Space Furniture for small scale and storage furniture options during October 2015. Amy, retired from the US Postal Service in San Juan, PR back in January 2015 and relocated to Porter, TX. Now living in a 4 bed/ 2 bath 1782 sq. ft. home have decided a large home is more work and less time to do the things she loves, like travelling. Amy and her husband are now looking into Tiny Houses as their next move. While doing some "window shopping" through search engines, they found that too many items of the ones they need were spread over the sites and they had to spend too much time looking into these different sites for what they needed. And this is when Tightspacefurniture.com was born.
Small scale furniture spread around in different websites are now consolidated for this new lifestyle of downsizing from large to not so big, such as tiny houses, small apartments, dorms or studios. Too much time is spent surfing the internet searching for furniture options that fit and provide the double duty of storage besides the primary function, so it is a definite advantage to have all you need in one place.
The owner repeats the well known quote by Plato, The Republic Greek author & philosopher in Athens "necessity is the mother of invention" and now you can find a wide variety of space saving furniture and with handy storage solutions. She says: "I'm downsizing myself into a Tiny House this year and was spending time and trouble searching the web for smart furniture spread around, so I decided to create just a one-stop-shopping website with most of the furnishings anyone would need."
Locally owned Tight Space Furniture announced today that effective October 2015 a new website was launched to provide small scale furniture to fit in Tiny Houses, Small Apartments or Studios.
Tight Space Furniture is focused on it's mission of consolidating small scale furniture for the new trend in America to downsize from large homes into small house living for its ecological and economical advantages. It specializes and is committed to having functional options to fit our new lifestyle. Find out more at
www.tightspacefurniture.com
Tight Space Furniture was created off the idea of the new trend of downsizing from larger homes into Tiny Houses and the need for home furnishings to fit the tight and small spaces for these homes in America. From the bedroom to the living room, Tight Space Furniture strives to have everything you need to create your big dream Tiny Home and be comfortable with innovating ideas. Everyday new items are added. They hope you enjoy it!