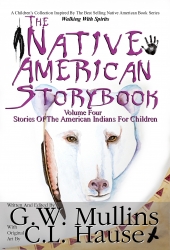 New York, NY, March 26, 2016 --(
PR.com
)-- The stories of Native American Indians have always possessed great meaning. And even though the tribes may vary in location or beliefs, deep within you will find a common thread. Respect for nature and people can be heard in stories from tribes from Canada to Florida. The stories included in this book show Native American storytelling at its best. Contained within 192 pages in 6x9 format, Mullins brings history to life along with original art by award winning artist C.L. Hause.
Among the stories included in this fourth volume Of the Native American Story Book are: The Woman and her Bear, The Story of Winter Snow, The Warrior of High Cliff, The Sacred Pipe of the T'salagi, The Origin of Fire and the Canoe, The Long Journey, A New Bow for Tani, The Trickster's Great Fall and His Revenge, Grandfather Thunder, The Origin of the Doll Being and many, many more.
For further information, on the writing visit G.W. Mullins' web site at http://gwmullins.wix.com/officialsite. For information on the art of C.L. Hause visit his web site at http://clarencehause.wix.com/homepage
G.W. Mullins is a Native American of Cherokee decent. He has been a published author for several years. He recently released book one in his "From The Dead Of Night Series", the top selling title "Daniel Is Waiting". This and other books by Mullins are available in print and eBook on Amazon.com, Kindle, Kobo, Google Book Store, Nook, Books-A-Million, Barnes and Noble and other book retailers.
C.L. Hause is an abstract artist who possesses a Bachelor Of Arts Degree specializing in Studio Art. He was the winner of the 2013 Johnny Hart Memorial Award as well of several others. He has always been inspired by nature, primitive and Native American design.