VOENA Kicks Up Its Heels and Raises Funds for Its Music Programs with an Evening of Dancing, BBQ and Beer on Tuesday, April 12 at 5:30 pm at the Lagunitas Brewing Co.
VOENA Children's Choir will host an evening of dancing, BBQ and beer "Western Style" on Tuesday, April 12 from 5:30 to 8:30 PM at the Lagunitas Brewing Co. located at 1280 N. McDowell Boulevard in Petaluma. This fun-filled evening will include live music by Dginn, a 4 to 8 piece high-energy dance band, special performances by VOENA students, a live and silent auction, and delicious BBQ and Lagunitas beer. All proceeds benefit VOENA's life changing music programs for youth.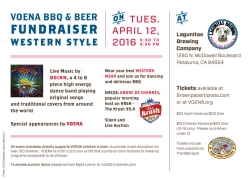 Petaluma, CA, April 01, 2016 --(
PR.com
)-- With a Western style theme, the event will be a celebration of the power music has to bridge worlds and change lives, emphasizing VOENA's mission, "to unite the world and empower future leaders through music." Dance music by Dginn will feature original songs and traditional covers from around the world and VOENA students will make special appearances on stage to showcase their talent. The EMCEE for the evening will be Andre De Channes, the popular morning host on The Krush 95.9. The live and silent auction will provide prizes and experiences that include tickets to Disneyland, VOENA performances and more.
Tickets include food prepared by The BBQ Spot and non-alcoholic drinks will be available for purchase for students under 21. Ticket cost is $25 for adults purchased in advance and $30 at the door. Tickets for children are $15 purchased in advance and $20 at the door. Tickets are on sale now
www.brownpapertickets.com/event/2505219
About VOENA
VOENA is an award-winning children's a capella singing group, serving over 150 children ages 6 to 18 at three regional chapters in Benicia, Napa and Santa Rosa. VOENA's unique no audition policy provides access to its music program for all children and its scholarship program allows all children to participate, regardless of their social or economic background. The VOENA in the Schools (VIS) program brings its programs to nearly 2,000 children in Title 1, low-income K-5 schools in Benicia and Napa. VOENA's uniqueness lies in the ability of the its Director, Annabelle Marie, to empower children to discover their voices and build self-confidence through song and movement. Its music programs move beyond traditional choir practices and incorporate multiple percussion instruments, dance, and theatrical elements. Annabelle works with each child to instill in them the skills they need to strive for their personal best through what VOENA calls the "Big Three:" 1) Accept the challenge, 2) Develop a hard work ethic, and 3) Be self-motivated. Each year VOENA must raise at least half of its budget to continue its music programs. VOENA is a 501(c)(3) non-profit that counts on contributions to make its programs accessible to all children. For more information visit www.VOENA.org.
Contact
VOENA
Michelle Fulbrook
707-363-1538
voena.org

Contact