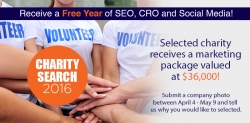 San Diego, CA, April 05, 2016 --(
PR.com
)-- Ignite Visibility,
named #1 SEO company in California
in 2014, 2015 and 2016, is once again affirming its strong commitment to making the community a better place by launching
Charity Search 2016
on April 5 through May 2, 2016. The selected charity can apply to receive a free year of SEO, CRO and social media services—a deluxe marketing services package valued at $36,000.
"It has always been part of our mission to give back. Digital marketing is what we are best at, so we are donating our time and expertise. Our goal is to make a major impact on the charity's visibility and bottom-line," said John Lincoln, CEO of Ignite Visibility.
At Ignite Visibility, the Charity Search is more than an annual event; it is part of the company's ongoing dedication to San Diego. Ignite Visibility donates time regularly to the San Diego Food Bank and were past sponsors for the San Diego AMA Cause Conference. Ignite Visibility is also proud of its partnership with
Reality Changers
, an organization which helps high-potential, low-income youth become first generation college students at the nation's top colleges, and has served as the charity's pro-bono digital marketing agency of record since September 2014. Ignite Visibility aims to have 5-10% of its business be free of charge at all times for causes it supports.
"Charity Search is very important to us. This is the perfect way for our company to make a lasting contribution to one of the many local charities throughout San Diego. The package represents more than just monetary value; we are offering our pooled years of experience and enthusiasm for what we do," said Krishnan Coughran, COO and President of Ignite Visibility.
To participate, charities should submit a company photo and describe what makes their charity stand out and how they would benefit from digital services. The selected charity will be announced on May 9, 2016. To submit your charity for consideration, visit
https://ignitevisibility.com/charity-search/
.
About Ignite Visibility
Ignite Visibility is a premier Internet marketing company based in San Diego dedicated to providing the highest level of customer service in the industry. By establishing mutually beneficial, long-term relationships with our clients, we create custom solutions uniquely tailored to meet the specialized business objectives of each client. Because a company is only as good as the promises it keeps that were made during the sales process, Ignite Visibility holds itself accountable to clearly defined key performance indicators established at the outset of every campaign. We are committed to the Ignite Visibility motto pertaining to the three "Rs" of customer satisfaction: relationships, responsiveness and results. To learn more about Ignite Visibility, visit
https://ignitevisibility.com
.