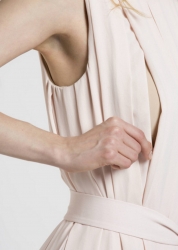 New York, NY, April 12, 2016 --(
PR.com
)-- Mitera Collection, an innovative and socially conscious fashion brand, celebrated its first birthday today. The brand also pre-released a limited edition version of their bestselling dress, featuring its patent-pending zipper opening system that allows easy and discrete breastfeeding and pumping. This piece is also the first of the soon-to-be-revealed second collection of the brand.
Mitera's initial collection had launched just one year ago, with the release of six timeless designs that ranged from casual day dresses to elegant party styles to going-back-to-work dresses. Yoko Shimada, Mitera founder and CEO, built the brand with a core mission to "celebrate and inspire mothers with new levels of confidence and independence – especially during pregnancy and nursing." After a successful and profitable first year, Shimada was continuously inspired by working mothers worldwide to design a second collection.
The re-launch of the bestselling Ellen dress in a new blush pink hue is the first of the second collection to become available to the public. The unique combination of the patent-pending concealed zipper system and easy-care machine-washable fabrics continue to bring practical style and functionality to pregnant and nursing mothers. Shimada continues to design using a core palette of classic colors that can be mixed and matched with a mother's existing wardrobe.
"I am so thankful to everyone who has helped me get the brand started and get it to where it is today," explained Shimada, while reflecting on the past year and thinking about Mitera's future. "I am beyond grateful for all the customers who have given us a chance and believed in us. We have been able to interact with our customers at a much more personal level and these interactions and their feedback have been truly memorable and valuable."
Mitera's ultimate goal continues to be to improve the health status of mothers and children around the world, particularly working to improve the lives of mothers and newborns in developing countries. After having partnered with D-Rev (www.d-rev.org) this past year, Shimada is "ready and excited to make our first financial contribution." Shimada explains that she wants to "leverage the love and the bond of motherhood to try to affect positive change in the lives of other moms and babies," indicating that the social work behind Mitera will continue this next year.
The new pre-release dress and the soon-to-be-revealed second collection will be available exclusively through the Mitera e-commerce site at www.miteracollection.com. All garments are produced in a family-owned factory in New York.
About Mitera
Mitera celebrates, empower and inspire the modern mother throughout and every step of her crazy but beautiful journey called motherhood. We create clothing that fits her many stages of her journey from pregnancy to birth through breastfeeding, returning to work and childhood. We make dresses as versatile as she is that fits her many moments perfect and that makes her feel as beautiful as a mom does. Mitera celebrates all the layers of motherhood. Mitera is headquartered in New York, NY.
Contact:
Yoko Shimada, Founder and CEO
e: yoko@miteracollection.com
w: www.miteracollection.com