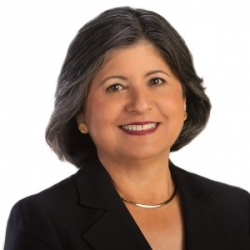 San Diego, CA, April 13, 2016 --(
PR.com
)-- Recently, Irma Cota, President and CEO of North County Health Services (NCHS), received the Cesar Chavez Lifetime Achievement Award in recognition for her dedication and achievements to help provide underserved communities access to quality, comprehensive health care services. The award was presented by San Diego State University during a special luncheon to honor both Cesar Chavez and the recipient of the award, Irma Cota, an SDSU alumni.
"Our mission is to make health care a right, not a privilege. Giving back to the community I grew up in is my passion, especially after experiencing the firsthand need that the area had for medical care. There was an opportunity to provide service and care back to those who most need it," said Irma Cota. "I also believe that a healthy, happy workforce is what will result in an effective and compassionate healthcare for all patients in NCHS and the local community."
After nearly two decades, Irma has turned the organization around and developed it into an efficient network of 11 clinics, covering 1,000 square miles in San Diego's North County. This network has become a "medical home" for over 62,000 patients and clients. Each year the budget, staff, and number of patients has increased. With a budget growing from $12 million to $68 million and a staff that has grown from 200 to over 700 members, the demand for health care continues to grow and NCHS aims to meet those demands.
Irma holds a Master's degree in Public Health from San Diego State University, in addition to three certificates in health administration from other various institutions (John's Hopkins University School of Public Health, UCSD School of Management, Harvard Business School of Management, and UCLA Anderson School of Business).
About North County Health Services
North County Health Services (NCHS) began in 1971 to serve primarily the rural areas of Ramona, Pauma Valley and San Marcos in North San Diego County, California a region commonly known as "North County". In 1973, NCHS became a Community/Migrant Health and incorporated as a private, non-profit corporation. The catchment area given to NCHS was the entire North County region from the coast to the mountains with the service area 60 miles east to west, and 35 miles north to south. The area includes two Metropolitan Statistical Areas, North County East and West.
The lack of accessible and affordable healthcare services drives NCHS' efforts to extend services and coordinates with other government agencies, for profit and not-for-profit organizations and schools to make medical services available to everyone regardless of financial and medical insurance status. NCHS is not a free clinic, but for those who lack health insurance. For more information about NCHS, visit
www.nchs-health.org
.
About the Cesar Chaves Lifetime Achievement Award
The Cesar Chavez Lifetime Achievement Award, named after a Latino American civil rights activist, is one of many ways that Cesar Chavez is honored for his commitment to the community. From schools, streets, and parks named after him, the Cesar Chavez Lifetime Achievement Award is a way to celebrate the accomplishments of Cesar Chavez and to recognize a member of the community for their efforts to provide service back to the area.